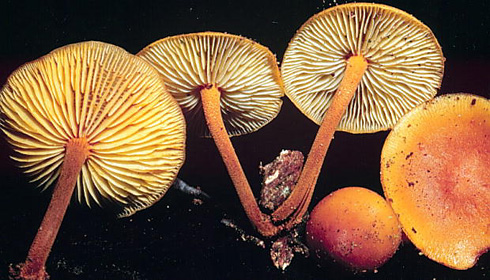 Xeromphalina tenuipes (Schw.) A. H. Smith

Photograph by R. E. Halling, © 1997
Considered by some (e.g., E. Horak, Sydowia 32: 131-153. 1979) to belong in a separate genus Heimiomyces, X. tenuipes is not uncommon in the neotropics across a broad elevational range. It is also known from Africa (D. N. Pegler, Kew Bull. add. ser. 6: 244-247. 1977). The fulvous pileus, amyloid spores, velvety stipe, and growth on dead wood aid in identification. According to Horak (op. cit.), there are separate, distinctive Indomalayan and Australasian microspecies or species complexes.