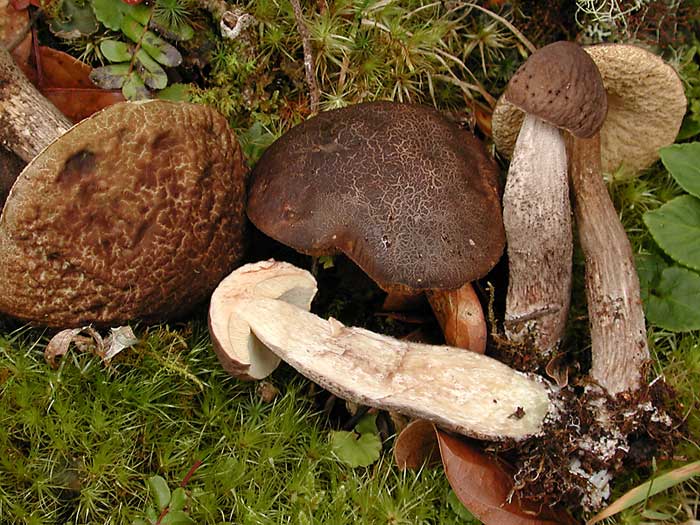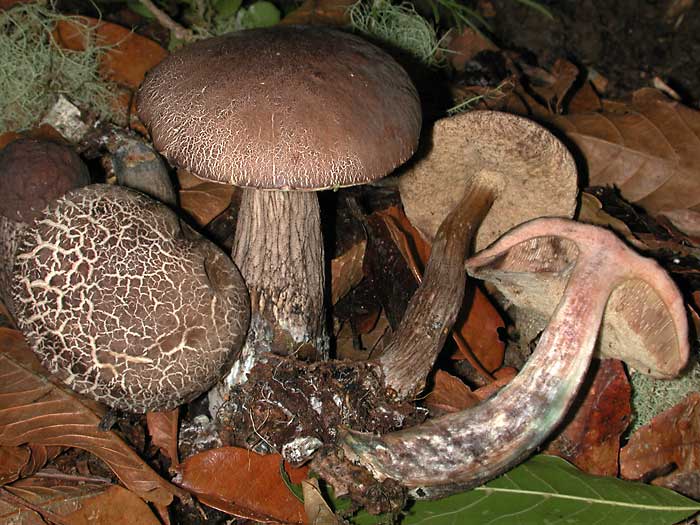 Leccinum talamancae Halling, Gómez, & Lannoy, Kew Bull. 54: 750. 1999.

Images copyright R. E. Halling © 2005
Voucher: REH8168
This Leccinum is routinely encountered in the Cordillera Talamanca. The flesh is white at first when exposed, then becomes pink to reddish orange in the pileus and stipe apex. In mid-stipe the change is to a greenish blue and a deep, dark blue in the base of the stipe. These oxidation reactions appear to be consistent with this taxon. The pileus color seems to vary from a caramel to dark gray brown and typically is ±rugulose to rugose/wrinkled depending on individual collections. KOH is yellow to orange brown on the pileus surface. In a recent monograph of European Leccinums (Lannoy & Estades 1995), the Costa Rican material comes closest to L. variicolor Watling in subsect. Pseudoscabra. However, that species is apparently restricted to an association with Betula and the pileipellis elements are cylindrical in shape not isodiametric. At present, L. variicolor is unknown in the Americas, even though mycorrhizal host shifts have been documented and described for other agarics (e.g., Mueller & Strack 1992, Bougher & Malajczuk 1985, Bougher, et al. 1994). Clearly, more collecting in temperate and tropical America will provide a better picture of species composition and mycorrhizal associates.