Members receive free admission to Around the Table: Stories of the Foods We Love for free every day! Advanced reservations are recommended. Reserve online.
Not a Member? Join or Renew today and take advantage of everything Membership has to offer!
Members-Only Preview Day
Friday, June 3; 10 a.m.–6 p.m.
On this day, take advantage of exclusive Member benefits: free parking, 20% off at NYBG Shop, 15% discount at all dining venues, and up to four half-price tickets for guests.
Members-Only Preview Day Programming
Tools for the Table: Artisan Demonstration
12–4 p.m.
Visitor Center

Watch as an expert local artisan shares the tools and techniques necessary for preparing foods, from farm to table, and how we can give scraps or leftovers a second life.
Art of the Table
12–4 p.m.
Perennial Garden

Come and meet one of the creators of our tables! Get to know the artist through discussions accompanied by interactive, entertaining, and celebratory activities that reflect the artist's interests.
Peggy Rockefeller Rose Garden Tour
12 & 2 p.m.
Rose Garden Entrance
Enjoy the beauty of the Peggy Rockefeller Rose Garden on a tour with an NYBG Tour Guide.
Tips and Tricks for iPhone Photography
12 p.m.
Native Plant Garden Pavilion
Learn the essential skills for taking the perfect photo using your iPhone. With the Native Plant Garden as your subject, expert photographer Jeff Falk will demonstrate the 'hidden' iPhone camera settings that will take your photos to a whole new level. All you'll need to bring is your smart phone!
African American Garden: Remembrance & Resilience Tour
1 & 3 p.m.
Barnsley Beds
A guided tour of our African American Garden that traces the roots of American cuisine to the plants of the African Diaspora.
Foodways Tours with Bronx River Alliance
2 p.m.
Stone Mill Tram Stop
Join a representative from the Bronx River Alliance to explore how the Bronx River has acted as a major foodways circuit.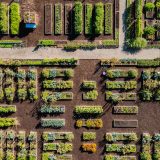 Helpful Exhibition Tips
Members can visit Around the Table: Stories of the Foods We Love multiple times along with the stunning seasonal collections across our 250 acres.
Member admission includes access to daily programming and tours.
Guest passes are accepted for daytime Around the Table visits. Guest passes must be redeemed onsite and cannot be reserved in advance.
When possible, take public transportation. Public transportation is the easiest and quickest way to get to the Garden! If you drive, parking is limited and is first-come, first-served (see full directions).