Spooky Pumpkin Garden Nights
October 22 (Sold Out) & 29, 2022
6:30 p.m.–9 p.m. | At the Garden
Join us for a frightfully fun flashlight adventure
Spooky Pumpkin Garden Nights are back, with plenty of after-dark adventures for young and old alike! Break out your best Halloween costume and explore the twisting trails of the Everett Children's Adventure Garden by flashlight during this frightfully fun nighttime outing. You can even explore the beauty of kiku after dark—our carefully trained Japanese chrysanthemums that scream fall color.
Meet giant skeletons on parade, discover the secret lives of scarecrows, groove to live music, and stop to purchase drinks and light bites as you celebrate the spookiest season at NYBG!
Advanced purchase recommended to guarantee admission; events do sell out.
Ticket Information:
Non-Member: $25
Member: $20
Drop in for Frightfully Fun Activities
Explore a variety of activity stations and pick up treats along the way as you set out on an after-dark adventure in the Garden.
Decorate a Treat BagConjure up your spookiest designs and create a treat bag to hold all of the goodies you collect throughout the evening.
Pot up a Carnivorous PlantLearn all about carnivorous plants and pot up your own bug-eating plant to take home.
Give a Hoot with Owl ActivitiesExamine an owl's talon and feather to learn more about these nocturnal Garden residents. Then observe an owl pellet to discover new things about the diet of these fascinating birds.
Learn about Chocolate at Our Inspiration StationDiscover the origins of your favorite chocolate treats as you try your hand at grinding cacao.
Nighttime Pumpkin Carving
Marvel as master carver Adam Bierton constructs creepy creatures and spooky specters to come a-glow at twilight.
Go BattyNative bats are among the most helpful nocturnal creatures, giving gardeners a hand by eating thousands of insects each night. Learn more about the species that call the Garden home.
Compost Critters
Explore wiggly worms in our worm bin to learn about vermicomposting. See what castings and wiggly friends you can find.
Examine Pumpkins and GourdsTake a closer look at the peculiar shapes, patterns, and colors of these seasonal staples, and discuss your findings with an NYBG Explainer.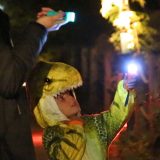 Monster Mash Dance Party
Visitor Center
Groove to music presented by Uptown Vinyl Supreme and dance around in your best Halloween outfits! Food and beer available for purchase.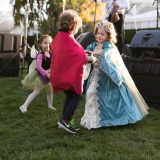 Kiku After Hours
Enid A. Haupt Conservatory
Head to the Conservatory to explore the weaving path of the Edible Harvest and the sculptural plantings found in the Kiku exhibition.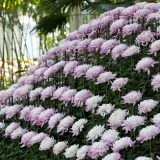 Meet Giant Skeletons on Parade
Larger-than-life skeletons specially commissioned by Bronx-based puppeteer Lucrecia Novoa are on hand to greet you during these bone-chilling evenings at the Garden. Visual artist, educator, and puppeteer Lucrecia Novoa is the founder and director of "Mascara Viva."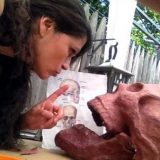 The Secret Life of Scarecrows: Live Shadow Puppet Performance
Under the autumn moon, scarecrows come to life and make mischief in the Garden. Using the magic of shadow puppetry, vintage overhead projectors, and live music, the award-winning cast of Hit the Lights! Theater Co. weaves an enchanting story of scarecrows that awaken on Halloween night.
The 10-minute live performance will be presented several times throughout the evening. After the performance, head down the Mitsubishi Wetland Trail where the story continues with an immersive sound installation featuring the sounds of our nocturnal forest friends.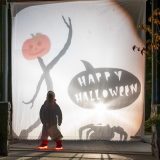 NYBG Shop
Open til 9 p.m. on October 22 & 29
Be sure to stop by the shop to pick up some treats!