Bring your friends and be the first to shop the Fair's exquisite selection of fine antiques!
Below is a collection of the special offerings that will be featured in our Silent Auction on Thursday, May 3. If you are unable to attend the Preview Party but would like to place an absentee bid, please call Heather Gries in the Special Events office at 718.817.8657 or e-mail hgries@nybg.org.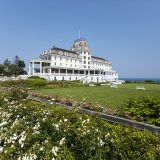 Ocean House Getaway
Spend two nights in The Tower Suite at The Ocean House—a Rhode Island Relais & Châteaux seaside resort, and the first and only Forbes Five-Star hotel in the state. Decorated by designer Cindy Rinfret, the two-bedroom suite with living room and kitchen has a nautical charm reflecting the resort's seaside location.
VALUE: $4,100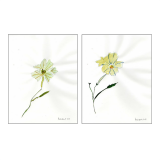 Pair of Contemporary Botanical Watercolors by Elizabeth Enders
Represented by Susan Frei Nathan Fine Works on Paper, LLC.
Petunia I, watercolor, pencil on paper.
Petunia II, watercolor, pencil on paper.
14-½″ h x 11″ w each (framed)
VALUE: $3,000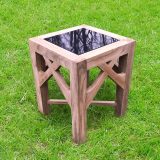 Pair of Munder-Skiles Emblem Tables
Two Emblem (Gothic) side tables handcrafted from sustainably harvested teak. Composed of intricately designed wood joints that fit together like a puzzle. This pair will make a beautifully eye-catching addition to your home garden or outdoor patio. Dimensions: 22″ h x 17″ w x 17″ d each
VALUE: $3,000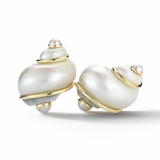 Seaman Schepps Turbo Shell Earrings
A pair of iconic turbo shell earrings with pearl ends set in 18-karat yellow gold. Signed Seaman Schepps.
VALUE: $3,950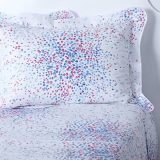 D. Porthault Bouquet Éclaté Blue King Bed Set & The Art of Luxury Linens Book
A luxurious 100% cotton king size bed set, hand-printed and sewn in France. Includes top sheet, flat bottom sheet, and two king pillow shams. You will also enjoy an exclusively signed copy of the book D. Porthault: The Art of Luxury Linens by author Brian D. Coleman and D. Porthault owner, Joan Carl.
VALUE: $2,060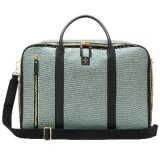 India Hicks Duke Overnight Suitcase, Zip-Around Makeup Bag, and Crown Jewels Case
Just in time for your next weekend getaway! Carry all of your essentials in perfect style with this exceptionally crafted travel set made with high-performance fabric, dark grey/black trim, and gold-tone hardware.
VALUE: $1,500
Duke Overnight, 19″ w x 14″ h x 8″ d
Zip-Around, 8-3/8″ w x 3″ h x 6-1/4″ d
Crown Jewels, 5-1/2″ w x 2-3/4″ h x 5-1/2″ d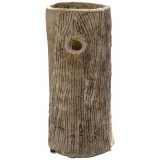 FLEUR
Faux Bois Planter
French, 20th century.
25″ h x 11″ d
VALUE: $2,100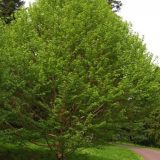 Corylus fargesii – Farges hazelnut
A Chinese native, this beautiful specimen tree was grown from wild-collected seed. Farges hazelnut is a true collector's tree.
VALUE: $10,000
New to North American botanical gardens and arboreta in the 1990s, it is rarely available commercially. Although the green leaves of this species turn yellow in autumn, the exfoliating warm amber and bronze bark is its most stunning characteristic. Hardy to Zone 5, this fast-growing species will likely reach over 50 feet high in cultivation and appreciates a sunny to partly shaded garden location with well-drained soil.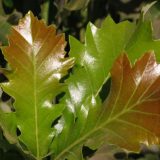 Quercus bicolor Beacon® – swamp white oak
This rare columnar form of swamp white oak was discovered in Virginia's Shenandoah Valley in 2007 by famed plantsman Michael Dirr.
VALUE: $9,000
The leaves of this native species emerge coppery-red and expand to a deep lustrous summer green, before turning a pleasing yellow in autumn. Its sentinel silhouette and deeply ridged bark add winter interest. Hardy to Zone 4 and tolerant of a wide range of soil conditions, this oak would make a striking and steadfast anchor in many gardens.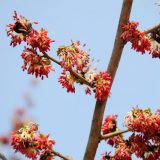 Parrotia subaequalis – Chinese parrotia
Chinese parrotia is quite new to Western horticulture and a specimen of this size is surely a rarity. Parrotia are also commonly called ironwood because of their dense and sturdy trunks.
VALUE: $7,000
This species develops lovely cream, grey, and green patchwork bark similar to that of more common Persian parrotia. In autumn its blue-green leaves turn spectacular hues of orange, red, burgundy, and purple like many other members of the witch-hazel family; in late winter or early spring, clusters of deep-pink petalless flowers grace the canopy. This tree grows best in acidic soil with even moisture but appears adaptable to other well-drained soil conditions. Hardy to Zone 6, Chinese parrotia reaches approximately 30 feet high when mature.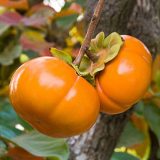 Diospyros kaki 'Jiro' and 'Saijo' – persimmon
Diospyros kaki is the most frequently cultivated species of persimmon, grown for its fall-ripening edible fruit. Although the species is native to India, Burma, China, and Korea, it is widely cultivated in Japan and therefore commonly called Japanese persimmon.
VALUE: $7,000
Hardy to Zone 6, 'Jiro' and 'Saijo' are two of the most cold-hardy selections available. 'Saijo' is prized for its exceptionally sweet yellow-orange fruit, which is usually seedless, while 'Jiro' bears rounded and brighter orange fruit. A popular cultivar in Japan, 'Saijo' translates in Japanese as "the very best one." These small-statured deciduous trees grow approximately 15 feet high and wide and provide a garden with wonderful bold orange-red fall color as well as tasty fruits.
Check back for more exciting items coming soon.