Bring your friends and be the first to shop the Fair's exquisite selection of fine antiques and garden furniture.
Below is a collection of the special offerings that will be featured in our silent auction on Thursday, April 11. If you are unable to attend the Preview Party but would like to place an absentee bid, please call Heather Gries in the Special Events office at 718.817.8657 or e-mail hgries@nybg.org.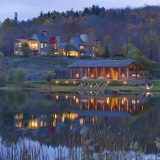 All-Inclusive Vermont Getaway at Twin Farms
Spend a three-night, all-inclusive stay in a suite at The Farmhouse at Copper Hill nestled atop 300 acres of gorgeous Vermont landscape.
A member of the Relais & Châteaux collection, Twin Farms is an idyllic special country estate designed to provide you with a luxurious five-star experience. Includes meals, beverages, wine service, and on-site activities fit for adventure and relaxation.
Value: $6,600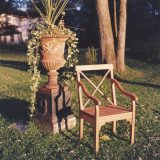 Munder Skiles Xylo Arm Chair
Hand crafted teak garden seat.
The Xylo arm chair is based upon an 18th Century French design. Make this beautiful chair a fixture in your home garden or outdoor patio.
Munder Skiles is synonymous with the finest handmade garden furniture. Each chair, table, bench and chaise is carefully drawn, crafted and finished with expert care and attention to detail.
Value: $1,650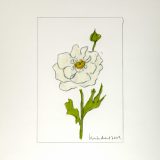 Contemporary Botanical Watercolor by Elizabeth Enders
Susan Frei Nathan Fine Works on Paper, LLC represents the finest American, British and European contemporary botanical artists working today.
Trained in the classical manner of plant portraiture or abstraction, these artists work primarily with graphite, watercolor and colored pencil on paper and vellum. They have received the highest accolades for the masterful techniques.
White Ranunculus, 2009, colored pencil, pencil on paper
16" h x 13" w (framed) by Elizabeth Enders
Framework by Susan Frei Nathan Fine Works on Paper, LLC.
Value: $1,500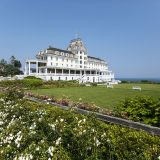 Ocean House Getaway
Spend two nights in The Tower Suite at The Ocean House—a Rhode Island Relais & Châteaux seaside resort, and the first and only Forbes Five-Star hotel in the state.
Decorated by designer Cindy Rinfret, the two-bedroom suite with living room and kitchen has a nautical charm reflecting the resort's seaside location.
Value: $4,400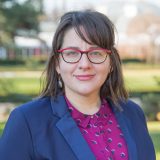 At-Home Garden Consultation with Deanna Curtis, Senior Curator of Woody Plants and Landscape Project Manager at the New York Botanical Garden
Renovating your landscape? Discuss plant selection, design ideas, and pruning options during a private consultation with Deanna Curtis.
Deanna will help you select the right hardy trees and shrubs for your garden and discuss design interventions, along with pruning solutions, for your landscape.
Value: $2,500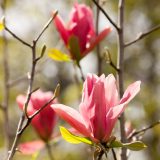 Magnolia Trio
"It is a whole new world of magnolia color options now, with canary yellows, coral pinks, and purples so dark they look almost black!"
Deanna F. Curtis, Senior Curator of Woody Plants and Landscape Project Manager
Featuring: Magnolia hybrids 'Black Tulip', 'Butterflies', & 'Daybreak'
This trio of spring-blooming magnolia hybrids offers some of the best cultivars in exciting new colors. 'Black Tulip', one of the darkest purple-flowering magnolias, has fragrant goblet-shaped flowers.
'Butterflies' is considered one of the finest yellow magnolias available today, with a profusion of blooms opening before the leaves, resembling bright-yellow butterflies across the branches. 'Daybreak' is a vigorous grower with long-lasting, extremely fragrant blooms. All hardy to Zone 5 with oval-shaped canopies, 'Black Tulip' and Butterflies' are small to mid-size trees reaching 20–25' tall by 10' wide, while 'Daybreak' may reach 40' tall by 15' wide. They all require well-drained soils and bloom best in full to partial sun garden locations.
Value: $8,000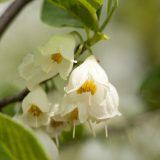 Mountain Silverbell
"The flowers remind me of a procession of twirling ball gowns, like in the Dance of the Mirlitons sequence in Disney's Fantasia."
Claire Lyman, Assistant Curator of Outdoor Gardens
Mountain silverbell (Halesia tetraptera) is filled with clusters of bright-white, bell-shaped flowers that hang from its branches in mid- to late spring, attracting hummingbirds and bees. This native species typically grows as a multi-stemmed understory or woodland-boarder tree. Halesia tetraptera has deep-green deciduous leaves that turn yellow each autumn, set beautifully against its smooth gray bark. Hardy to Zone 5, this upland species requires good drainage and prefers partly shaded conditions.
Value: $7,000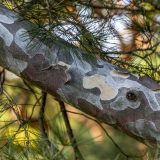 Lacebark Pine
"More than 100 years old, our lacebark pine, Pinus bungeana, specimen has a chalk-white trunk that appears nearly metallic in the rain, turning bronze and silver."
Kurt Morrell, A.P. Farm Associate Vice President for Landscape Operations
This pine is named for the beautiful way its bark exfoliates in lacy patches to form a collage of green, silver, tan, white, and purple. The bark of mature trees becomes bright white with age and exposure to sun, providing a striking contrast to its dark-green needles. This species is revered in China—where it has been planted in temple courtyards and other sacred sites for centuries—though it is becoming rare in the wild. A specimen of Pinus bungeana is both a horticultural and botanical treasure. Hardy to Zone 5B, lacebark pine grows slowly to reach nearly 50' tall at maturity.
Value: $10,000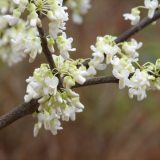 Redbud Trio
"Our venerable 50-year-old specimen of Cercis canadensis f. alba in the Native Plant Garden is a billowing white cloud of surpassing loveliness when it blooms in early spring."
Michael Hagen, Curator of the Rock Garden and Native Plant Garden
Featuring: Cercis canadensis forma alba, Cercis canadensis 'Cascading Hearts', & Cercis 'Merlot'
This trio of redbud selections offer up glossy heart-shaped leaves. The white-flowering Cercis canadensis f. alba is a graceful garden classic that is hard to find today. 'Cascading Hearts' is a newer cultivar, selected for its wonderfully flowing and pendulous branching habit and the lighter rose-pink color of its flowers. 'Merlot' has wavy-margined leaves that emerge purple in spring and then fade to wine-red and green during summer. 'Merlot' is a hybrid between eastern redbud and its western variety, Texas redbud, so it stands up to our summer heat unlike other older purple-leaved varieties. All are hardy to Zone 6 with edible flowers that can cover the plants in spring as they bloom on new branches, as well as on older stems and the trunk.
Value: $8,000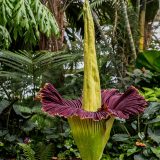 Titan-arum, A.K.A. the Corpse Flower
"We are delighted to present this rare opportunity to acquire one of these historic seedlings."
Marc Hachadourian, Director of Glasshouse Horticulture & Senior Curator of Orchids
By now, almost everyone has seen or heard of the famous corpse flower (Amorphophallus titanum), thrilling botanical garden visitors with their enormous blooms and signature aroma. This botanical marvel has become quite the celebrity in the past few years, especially here at NYBG, where tens of thousands of people visited and tuned in online to experience its bloom in 2016 and 2018. In 2016, we shared pollen of our corpse flower with the Denver Botanic Gardens in hopes of successfully pollinating and propagating this unusual species. It was a success and the seeds returned to us germinated, and they've been growing quickly in our Nolen Greenhouses for the past two years. This plant is truly a treasure for entrepreneurial gardeners who are willing to test their horticultural skill and dedication to grow and bloom a corpse flower of their own.
Value: $4,000