Garden Furniture & Antiques Fair Weekend
Friday, April 12, 2019 – Sunday, April 14, 2019
10 a.m. – 5 p.m.
Find Inspiration to Enhance Your Home and Garden
The nation's leading dealers offer classic furniture and fine antiques—some with a modern twist, both elegant and fanciful. See The Orchid Show: Singapore, also on view, and take advantage of expert-led orchid care demonstrations. A preview of the acclaimed NYBG Farmers Market on Saturday and Sunday and live musical entertainment round out this perfect spring weekend.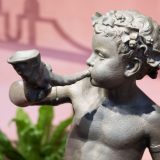 Additional Programming
Meet & Greet with this year's Featured Designers, orchid care demonstrations, and live music, all taking place in the tent behind the Conservatory.
Manscapers, NY, Meet & Greet
Saturday & Sunday; 12:30–2 p.m.
The featured designers at this year's Fair are the dynamic trio from Manscapers, NY, the exterior design and high-end landscaping firm on the hit Bravo TV showBackyard Envy. Garrett Magee, James DeSantis, and Melissa Brasier are creating an organic, site-specific installation as the Fair's centerpiece, which they will unveil as special guests at the Preview Party & Collectors' Plant Sale. Garrett and James will also be on hand on Saturday and Sunday.
Easy Orchid Care
Friday, at the Tent behind the Conservatory
Saturday–Sunday, at the Conservatory's Greenschool
2:30 & 3:30 p.m.

Join us for a discussion of some of the easiest orchids to grow at home. Discover the best varieties to keep based on lighting and humidity, and learn basic maintenance routines so that your orchids thrive and bloom for years.
Live Music
Friday; 11 a.m.–2 p.m.
Saturday; 11 a.m.–4 p.m.
Enjoy live music throughout the weekend.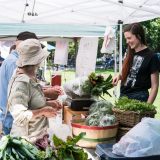 NYBG Farmers Market Cafe
Tent behind Conservatory
Saturday & Sunday
Voted one of the top 10 farmers markets in NYC by TimeOut New York, the NYBG Farmers Market is an annual highlight. Get a sneak peek of the upcoming season with vendors offering handcrafted sandwiches and salads, artisanal cheeses, grilled sausages, cold brew coffee, French pastries, homemade ice cream, and more.
Vendors include:
Dutch Desserts, Kinderhook, NY
After one bite, many agree that the Dutch Dessert tart is described as one of the best they've ever tasted and can be found in numerous stories and farmers markets throughout the tri-state area.
Big Bang Coffee, Peekskill, NY
Hot/iced coffee and coffee beans.
Wave Hill Breads, Norwalk, CT
A micro-bakery making artisan breads and pastries with organic whole grains milled at the bakery. The range of their offerings—from a perfectly puffed croissant to a classic Roman focaccia—is astounding.
McGrath Cheese Co., Hudson, NY
This artisan producer handcraft every batch of cheese using only the best milk available from small local dairies.
Larchmont Charcuterie, Larchmont, NY
Daniel Teboul, the inspiration behind Larchmont Charcuterie, grew up in the French Alps, and brings the fine art of sausage making to the Hudson Valley. His creations have the authentic and earthy taste of saucisson that was dried in an Alpine barn at an altitude of 10,000 feet.
La Petite Occasion, Mahopac, NY
La Petite Occasion sells caramels + toffees made from the local goodness of the region surrounding New York's Hudson Valley — we always prefer local.
Cooperstown Cheese Co., Cooperstown, NY
Cooperstown Cheese Company makes a variety of artisanal cheeses including it's Toma Celena and Jersey Girl which were on the 2013 Inauguration menu.
Penny Lick Ice Cream, Hastings, NY
Founded in 2013 with the mission of bringing back old-fashioned, custard-based ice cream, the ingredients are fresh and locally-sourced. Small batch ice cream made with heavy cream, cream-lined whole milk, eggs and sugar from local Hudson Valley farms. And no artificial colors, flavors, or sweeteners.
Di Riso Rice Balls, Hastings, NY
Riccardo Befi is a renowned gemologist who sidelines as a lasagna, mozzarella and arancini-maker. His porcini rice balls are utterly addictive!
The Misshapened Bowl, Ossining, NY
These bowls are made using only reclaimed hardwood trees, and an occasional soft wood when warranted, from New York State, especially Westchester County.
Arlotta Food Studio, Water Mill, NY
Infused organic olive oils (garlic, lemon, red pepper, blood orange), balsamic vinegars, and tapenades.
Hillrock Estate Bourbon, Ancram, NY
Located in Hudson Valley, Hillrock Estate Distillery's mission is to produce the finest hand-crafted spirits perfected from an over 200 year old recipe.
Mangalitsa by Mosefund, Branchville, NJ
We raise the hogs naturally and humanely while staying focused on meat quality. All our products are minimally processed with no artificial ingredients.
Anthis Greek Specialties, Tarrytown, NY
Anthi's Greek Food is focused on producing fresh, healthy, delicious Greek cuisine. Their food is authentic and the menu boasts flavorful Greek inspired dishes and flavors such as Tsatsiki, Moussaka and Chickpea Salad.
Blessed Brew Kombucha, Beacon, NY
Authentic live-culture kombucha from Beacon, NY Blessed Brew Kombucha is made in small batches using organic, fair trade teas and herbs.
KAS Spirits, Mahopac, NY
KAS Krupnikas is a family recipe distilled with local honey and a secret blend of spices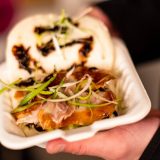 Bronx Night Market Pop-Up
Tent behind Conservatory
Friday
The Bronx Night Market brings together handpicked food vendors in celebration of our city's diverse culture. A special pop-up features a selection of Market favorites.