Giant Pumpkin Weekend
October 23 & 24, 2021
Giant Pumpkins on Display through October 31
Come see what Thrillist called one of the "best NYC exhibits to share on social media"
Some may think mummies, werewolves, and other monsters are the highlights of the Halloween season, but nothing tops the monstrous, gargantuan gourds that headline Giant Pumpkin Weekend. Experience some of the largest pumpkins in the world, meticulously cared for each year by elite growers and brought to NYBG in collaboration with the Great Pumpkin Commonwealth.
Included with KUSAMA Garden Pass and KUSAMA Garden & Gallery Pass tickets.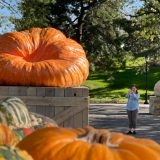 Behold the Behemoths
Come meet some of the largest pumpkins in the world:
2,365 pounds, grown by Andy Wolf of Little Valley, New York
2,201 pounds, grown by Ron Wallace of Greene, Rhode Island
2,092 pounds, grown by Alex Noel of Abington Pomfret, Connecticut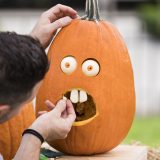 Pumpkin Carving Demonstrations
1–4 p.m.
Everett Children's Adventure Garden

Watch as amazing pumpkin faces and designs emerge from pumpkins of all shapes and sizes. Adam Bierton is a professional sculptor and pumpkin carver, and winner of the Food Network series Halloween Wars.
Witness the Arrival of Past Years' Giants
Giant Pumpkin Weekend arranged in collaboration with: