Evergreen Express
November 20, 2021–January 23, 2022
Self-Guided Explorations:
Daily 10 a.m.–5 p.m.
Guided Activities:
Weekdays; 1:30–2:30 p.m.
Saturdays, Sundays & Holidays; 11 a.m.–2:30 p.m.
Everett Children's Adventure Garden
Included in all ticket types
Bundle up to go on an outdoor adventure at the Everett Children's Adventure Garden. Hike the winter landscape searching for evergreens and their amazing plant parts using a fun guide. Then explore shapes in plants with images from the Steere Herbarium, featuring mounted plant specimens in the shapes of stars and hearts on display in front of the Discovery Center. Get hands on using evergreen boughs to craft a giant-sized bird's nest or prepare an imaginative picnic made of conifer parts at our Plant Part Paradise Playhouse.
Climb aboard a kid-sized play train and pretend to ride the rails, then get a kids' eye view at our mini-train table and chug along the tracks with wooden train cars or one of your own. An outdoor musical instrument station invites family jam sessions on a marimba, amadinda and drum.
Create an Evergreen Swag
Tuesdays–Fridays; 1:30–2:30 p.m.
Saturdays & Sundays; 11 a.m.–2:30 p.m.
Outdoors at Discovery Center Plaza
Children design their own evergreen swag wrapped in a festive bow to hang on a door or in a window at home.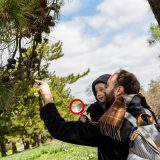 Storytime
Saturdays & Sundays; 11 a.m. & 1:30 p.m.
Outdoors at Swamp Oak Story Spot
Enjoy evergreen and winter-themed story readings.