Evergreen Express
Saturday, November 18–Sunday, January 21
Guided Activities:
Weekdays; 1:30–5:30 p.m.
Saturdays & Sundays; 10 a.m.–5:30 p.m.
Hop aboard our play train and pretend to ride the rails! Hike winter trails and find evergreen trees and shrubs. Warm up inside the cozy Discovery Center while learning more about amazing evergreen plants. Make a festive evergreen swag bundle to brighten up your home. Access included in Grounds Admission.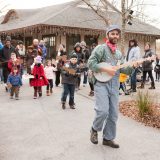 Ralph Lee's Train Puppet Parades
On weekends and during holiday weeks, craft your own magical puppet and join famed puppeteer Ralph Lee's staff in our beloved Train Puppet Parades! Be sure to stop by the craft studio just for families featuring train landscapes and materials kids can use to create their own train puppet, as well as people and animals to inhabit the scenes.
Enjoy classic train songs led by Ralph's banjo-playing musician and about every 45 minutes, follow the costumed train and engineer on a musical parade through the Adventure Garden.
Dates & Times:
11 a.m.–4:30 p.m.
November 21, 22, & 26;
December 3, 10, 17, & 31;
January 1, 7, 14, & 15
11 a.m.–5:30 p.m.
November 24 & 25;
December 2, 9, 16, 23, 26, 27, 28, 29, 30, & 31;
January 6 & 13
11 a.m.–2:30 p.m.
December 24