Young Poets Contest
Through November 15, 2019
In partnership with Poetry Society of America, NYBG invites students to submit original poems (written individually or with student collaborators) inspired by the magic of winter and the holiday season. Submissions may be in any style of poetry—inspired by changing seasons in the city, twinkling lights, New York City skyscrapers, or the enchantment of the Holiday Train Show® itself. Poems should demonstrate originality and inventiveness.
Billy Collins, beloved New York poet and former U.S. Poet Laureate, has been a treasured part of this holiday tradition since 2013. His poems have become features of our winter landscape, and his annual poetry reading is a welcome addition to every holiday calendar. Now it's your turn to join him! Collins will select 12 winning poems to be displayed at NYBG during the Holiday Train Show®. Selected student authors and their families will be invited to share their work at a public reading at NYBG on December 15.
For inspiration, visit the Garden and consult the Teacher Guide and Lesson Plan. Can't visit NYBG in person? These same resources can bring the Holiday Train Show® experience to life at home or in the classroom.
Registration for this year's contest has closed.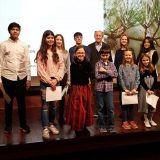 2019 Winners
Read the poems of this year's 12 winners as selected by former U.S. Poet Laureate Billy Collins.
Learn More About the Contest
Submissions can be in any style of poetry, but should not exceed 12 lines. Submissions must be original work by the student author and must not copy any other author. No visit to the Garden or ticket purchase is required to enter. There is no charge to submit poems.

Poems are able to be submitted from September 30th to November 15th, 2019.

Note that NYBG is not responsible for electronic transmission errors and encourages submissions to be written and saved in a separate word processing program and then copied and pasted/uploaded to the Garden's website. If submitting multiple poems by multiple authors, please attach in one PDF or word document and ensure that the author's information accompanies their poem. The Garden collects personal information in the below form for the purpose of notifying contest winners. All information (except for first name and age) will be kept in confidence and for the sole purpose of notifying the winners.

Students in grades K–12 (public, private, or home-schooled) who live in New York, New Jersey, or Connecticut are eligible to participate.

NYBG and Poetry Society of America advisors will select up to 75 semi-finalists from the received entries. From this pool, Billy Collins, contest judge, will select 12 winning poems. Winners will be notified by December 6, 2019.

Billy Collins has served as U.S. Poet Laureate and as New York State Poet Laureate. His work has appeared in a variety of periodicals including The New Yorker, The Paris Review, and The American Scholar. Collins is a former Distinguished Professor of English at Lehman College of the City University of New York. In 2016 he was elected a member of the American Academy of Arts & Letters. His poetry has been featured in the Holiday Train Show® each year since 2013.

Winning poems will be displayed on-site at the Garden and on the NYBG website. Winners will be invited to participate in a poetry reading hosted by Billy Collins, former U.S. Poet Laureate, at NYBG on December 15, 2019. Winners will also receive a copy of the book The Holiday Train Show®: A City within a City.