Spooky Pumpkin Nights
October 26 & 27, 2018
6:30–8:30 p.m. (Timed entries at 6:30 & 7 p.m.)
Dress in your favorite costume, grab a flashlight, and head into the Spooky Pumpkin Garden for a nighttime adventure. Explore scarecrow and pumpkin displays and take part in frightfully fun activities along the way. Kids will have a blast decorating gourds, meeting larger-than-life skeletons, learning about spiders, owls, and bats, and collecting wholesome treats courtesy of Whole Foods Market®.
Non-Member $25 / Member $20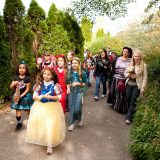 Frightfully Fun Activities
Set out on the Adventure Garden trails for a night of spooky fun! Explore a variety of activity stations and pick up treats along the way.
Decorate a Treat Bag
Everett Children's Adventure Garden Entrance
Create your own treat bag to fill up with the goodies you collect throughout the evening.
Giant Skeletons on Parade
Ribbon Gate
Larger-than-life skeletons, specially commissioned by Bronx-based puppeteer Lucrecia Novoa, greet you at the start of your night time adventure.
Visual artist, educator, and puppeteer Lucecia Novoa is the founder and director of "Mascara Viva." She uses a combination of masks, puppets, costumes, storytelling, and dance to interpret the folk traditions of different cultures.
Give a Hoot
Boulder Maze
Examine an owl's talon and feather to learn more about the owls that live in and around the Garden. Then, investigate an owl pellet to discover new things about the diet of these wise birds.
Chocolate Inspiration Station
Ever wonder where your chocolate treats come from? Chocolate tree seeds! Try your hand at grinding cacao as you learn more about chocolate from an NYBG Explainer.
Going Batty
Victorian Play House
Native bats help out gardeners by eating thousands of insects a night. Learn more about these helpful creatures with an NYBG Explainer.
Spooky Spider Legs
Inside the Discovery Center
Discover the role spiders play in Garden ecology as you count the legs on a spider or play pin the leg on the spider.
Investigate Pumpkins and Gourds
Herbarium Counter
Observe and feel pumpkins and gourds, then discuss your findings with an NYBG Explainer.
Pumpkin Photo Op
Giant Pumpkin Photo Station
Snap a picture in front of giant pumpkins–some weighing in at more than a ton!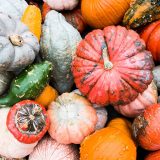 Gourd Decorating & Pumpkin Carving
Decorate a gourd to take home, then watch master carver Adam Bierton transform pumpkins into scary creatures throughout the night.
Adam Bierton is a professional sculptor and pumpkin carver based in New York. In 2015, Bierton was asked to participate in the Food Network series "Halloween Wars" – and he won. The Food network contacted Bierton again in 2017 to return to defend his title on a new mini-series called "Halloween Wars: Hayride of Horror," where he carved some of the largest pumpkins from all over the country.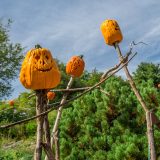 About the Spooky Pumpkin Garden
Explore more than 100 friendly, larger-than-life scarecrows set among nearly 1,000 rare and unusual pumpkins and gourds. Plus Monstrous pumpkins from around the country—some weighing in at more than a ton.