Members receive daytime admission to The Orchid Show: Natural Heritage for free every day! Advanced reservations are recommended, but not required. Reserve online.
Special Member Days
Members-Only Preview Day
Friday, February 17
10 a.m.–6 p.m.

Member Days
Saturday, March 11 & Sunday, April 16
10 a.m.–6 p.m.

Special Member Benefits on these three days only:
Free parking with a valid Member ID
20% off at NYBG Shop
15% off at all dining venues
Up to four half-price tickets for guests
Members-Only Preview Schedule
Roaming Guides
Enid A Haupt Conservatory
10 a.m.–2 p.m.
Garden guides highlight the special exhibition and add insight into your experience of The Orchid Show. Engage with our friendly and knowledgeable guides for an in-depth look at rare and extraordinary orchid specimens.
Orchid Care Demonstration
Garden Terrace Room Foyer
11:30 a.m.
Join us for a discussion of some of the easiest orchids to grow in your home. Discover the best varieties to grow and learn basic maintenance routines so that your orchids thrive and flower for years.
Member Tours
All tours meet at the Reflecting Pool
Magnificent Trees Tour
12 p.m.
What makes a tree notable? It could be its size, its bark, its uses, or a variety of other features. Some of our trees have been here since before the Garden was formally established in 1891.
NYBG Landmarks Tour
1 p.m.
Join an expert guide for a fascinating overview of the Garden's history and its importance as a vital NYC cultural destination since its founding. Explore "must-see" destinations like the Tulip Tree Allée, the Fountain of Life, the Library, and the Enid A. Haupt Conservatory.
Amazing Conifers Tour
2 p.m.
The Arthur and Janet Ross Conifer Arboretum is a historic, 15-acre collection of towering pines, elegant spruces, and mountain firs from around the world. These irreplaceable trees were among the first planted at the Garden, some as far back as the early 1900s. Join an expertly trained guide for a tour of these exquisite specimens.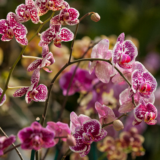 Helpful Exhibition Tips
Share The Orchid Show with friends and family and redeem your guest passes, accepted every day!
Members can visit the exhibition multiple times to see the mesmerizing orchid displays along with seasonal collections across our 250 acres.
The Orchid Show tickets also include access to family fun at the Everett Children's Adventure Garden.