Members receive admission to The Orchid Show: Jeff Leatham's Kaleidoscope for free every day! Advanced reservations are recommended. Reserve online.
Special Member Days
Members-Only Preview Day
Friday, February 25, 2022
Member Days
Saturday, March 19, 2022
Sunday, April 10, 2022
Members-Only Preview Day Events
Roaming Guides
10 a.m.–2 p.m.
Haupt Conservatory
Orchid Basics Q&A
1–4 p.m.
NYBG Shop
On Member Days, take advantage of exclusive Member benefits including free parking, 20% off at NYBG Shop, 15% discount at the Pine Tree Café and Hudson Garden Grill, and up to 4 half-price tickets for guests.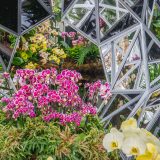 Helpful Exhibition Tips
Members can visit The Orchid Show: Jeff Leatham's Kaleidoscope multiple times to see the enchanting displays along with seasonal collections across our 250 acres.
Member admission includes access to daily programming and tours.
Guest passes are accepted for daytime Orchid Show visits. Guest passes must be redeemed onsite and cannot be reserved in advance.