Valentine's Day Members-Only Preview
February 14, 2020
10 a.m. – 6 p.m.
Members enjoy first access to The Orchid Show, plus Valentine's-inspired talks and programs.
Member benefits on this day only:
Free parking with a valid Member ID
20% off all purchases at NYBG Shop
15% off all dining
Up to four half-priced tickets for friends and family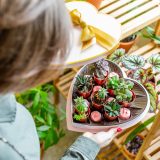 Programs & Activities
Explore The Orchid Show and more on Valentine's Day with a variety of programs and activities for Members.
Grow the Love: Living and Designing with Orchids
11 a.m.
Ross Hall
Join Marc Hachadourian, NYBG's Senior Curator of Orchids and Director of Glasshouse Horticulture, as he discusses orchid care and design, his love for these exotic flowers, and his career that spans over two decades.
He will be available to sign copies of his new book, Orchid Modern: Living and Designing with the World's Most Elegant Houseplants, available for purchase in Ross Hall. Seating for this event is first-come, first-served.
Collect the Love: Herbarium Open House
11 a.m.–3 p.m.
William and Lynda Steere Herbarium

Delve into the remarkable scientific history of our love affair with plants during a behind-the-scenes look into the William and Lynda Steere Herbarium.
The Herbarium is the second largest collection of dried plant specimens from around the world and throughout time. Learn ways that flowers have been used to express emotions, hear stories of scientists whose love for botany brought them together, and see an array of orchid specimens with fascinating love strategies of their own. Decorate a love note with heart-shaped leaves as a memento to take home.
Read the Love: Mertz Library Open House
11 a.m.–3 p.m.
LuEsther T. Mertz Library Building, 6th floor
What does a floral bouquet really say? Uncover the "language of flowers" and literary floral lore throughout the ages.
Our staff has selected rare book and exquisite plant illustrations that express every emotion, from Victorian plant mania to contemporary romance. See unusual treasures such as pressed plant albums, hand-colored folios, and gold-stamped bindings, and take home a #ColorOurCollections coloring book as a souvenir of the Mertz Library.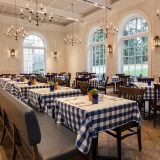 Valentine's Day Menu at Hudson Garden Grill
Enjoy special selections at the Hudson Garden Grill during Members Preview Day.