Valentine's Weekend
February 10 & 11, 2018
10 a.m. – 6 p.m.
Looking to escape to a tranquil, romantic place with that special someone? Come out to NYBG for Valentine's Weekend! Have a personal love poem written by a professional poet, learn all about chocolate with tastings and talks, or discover the aphrodisiac qualities of plants in the Conservatory.
While you're here, don't miss your chance to get a rare look into the William & Lynda Steere Herbarium during a special Herbarium Open House. Discover the connection between romance and botany, from love potion folklore to the love life of an orchid. Learn more below.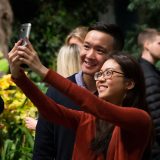 Events & Activities
From poetry and tours in the Haupt Conservatory to tastings at NYBG Shop, Valentine's Day weekend at the Garden is a perfect escape for couples.
Chocolate Mini-Seminars & Tastings
1 & 3 p.m.
Conservatory Greenschool
Explore and learn about the special qualities that chocolate has long held and indulge in a special tasting with expert chocolatier Roni Sue. Learn about where chocolate comes from and titillate your senses with a few choice samples.
Valentines & Verse
12–4 p.m.
Enid A. Haupt Conservatory
Have your own personal love poem written by a professional poet to remember this special day.
Romeo + Juliet
11 a.m. & 2 p.m.
Ross Hall
Enjoy special screenings of the Valentine's classic, Romeo + Juliet (1996).
Explore the Enid A. Haupt Conservatory
10 a.m.–5 p.m.
Immerse yourself in lush tropical rain forests, cactus-filled deserts, curated displays of palms from around the world, aquatic and carnivorous plants, and much more. In the Aquatic House, discover a beautiful seasonal display of Japanese camellias in pinks and reds.
Roaming Guides
11 a.m.–5 p.m.
Learn more about the aphrodisiac qualities of some of the plants in the collections from a roaming guide.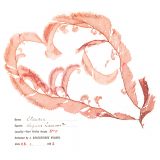 Herbarium Open House: Botanical Romance
February 10 & 11; 12–3 p.m.
Get a behind-the-scenes look into the William & Lynda Steere Herbarium while exploring the entwined history of plants and romance. Discover reputed aphrodisiacs, love potion folklore, and the botanical elements that inspired them. Learn about floral love languages, risqué orchids, DIY paper flowers, and more!
For the Love of Botany
Botany has brought people together for centuries. Hear stories of many botanists over time who have dedicated their lives not only to each other but to studying plants together, including the founders of The New York Botanical Garden, scientists Nathaniel Lord Britton and Elizabeth Britton.
The Language of Flowers
Throughout time, people have assigned meaning to flowers, and many cultures have used these meanings to send messages through the "language of flowers." From the "first emotion of love" (lilac) to the "cure for the heart-ache" (yarrow), the Herbarium will feature many plants and their ties to love.
Love Potions & Aphrodisiacs
Love potions and aphrodisiacs have been used for centuries in attempts to create or increase infatuation. We take a look at plant species involved in these ancient love myths, and at some which are still rumored to help increase desire.
The Love Lives of Orchids
False females, perfumes for courtship displays, and fake nesting sites are just some of the outlandish tricks orchids use to ensure they are pollinated by naive male bees and wasps. From Dracula to Orchis, come learn about these beautiful orchids!
DIY Paper Flowers & Cards
Nothing says "I love you" like a handmade gift. Come capture the beauty of botany and learn to create your own DIY flower out of paper—yours to take home! Supplies and instructions provided.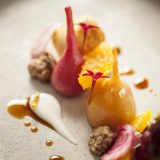 Dining at Hudson Garden Grill
Complete your weekend outing with a reservation at Hudson Garden Grill, the Garden's first full-service dining destination.
11:30 a.m.–5 p.m.
Make your reservation on OpenTable.com for a delicious meal at the Hudson Garden Grill featuring Valentine's treats alongside the seasonal winter menu. This STARR Events restaurant, helmed by award-winning Executive Chef Julian Alonzo, spotlights the innovative flavors of New American cuisine as inspired by locally sourced, ethically produced ingredients from Hudson Valley farms and other regional producers.