Women's History Month 2022
Tuesday, March 1, 2022 – Thursday, March 31, 2022
Online & At the Garden
This year NYBG's Women's History Month celebration honors inspirational sheroes in a variety of fields. From breaking ground in urban spaces to shattering glass ceilings in the laboratory, discover the powerful voices and stories of community, preservation, and purpose that bind them. Throughout the month, we explore and showcase influential women who have transformed NYBG as well as American horticulture, landscape architecture, botany, education, and so much more.
Welcome Message from Bronx Borough President Vanessa L. Gibson
Pioneering Women of NYBG
NYBG CEO & President Jennifer Bernstein profiles four prominent women who have transformed the Garden through their respective efforts in activism and philanthropy—including NYBG co-founder Elizabeth Knight Britton, seen here.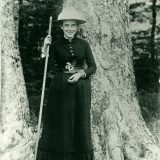 Crop Wild Relatives and the Role of Herbaria in Future Food Crop Security
Friday, March 18; 11 a.m. | Online
Although the potential of crop wild relatives (CWRs) was recognized in the early 1900s, with the advent of genome editing techniques such as CRISPR, scientists worldwide are now able to fully leverage the potential of CWRs as a source of diversity for cultivated plant populations.
With global crop production facing increasing threats from climate change, plant biologists are tasked with finding ways to continue production of crops that can withstand changes to environmental conditions and to increase production to supply a growing global population. CWRs provide a source of diversity that can be used to meet these demands. In this talk, Makenzie Mabry, Ph.D., an iDigBio postdoctoral researcher with the Florida Museum of Natural History at the University of Florida, will share her research on CWRs and ways in which data from digitized herbaria specimens can be used to inform future crop breeding efforts, especially in the face of climate change.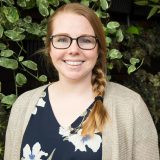 Influential Women in Landscape Architecture
Famed landscape architect Cornelia Hahn Oberlander (1921–2021) left an outstanding legacy of built work in Canada, the U.S., and Europe. Her imaginative designs, sustainable practices, and compelling lectures encouraged legions of professionals to follow her path. The Cultural Landscape Foundation's recently announced award, the Cornelia Hahn Oberlander International Landscape Architecture Prize, is named in her honor.
Oberlander lectured twice in NYBG's longstanding Landscape Design Portfolios Lecture Series. Two of her protégés, Shavaun Towers, FASLA, and Beka Sturges, ASLA, carry on her legacy and are featured in NYBG's Landscape Design Students and Alumni Series:
Gardens Within the Garden: Shavaun Towers
Tuesday, March 15; 1 p.m. | At the Garden
Over more than two decades, landscape architect Shavaun Towers has worked closely with NYBG staff to create many of the distinctive gardens within its 250 acres, including the Chilton Azalea Garden, Burn Lilac Collection, and Steinhardt Maple Collection.
Towers will discuss how she overcame horticultural and grading challenges to brilliantly choreograph the visitor experience, while respecting both NYBG's historical precedents and the unique character of each "garden within the Garden."
Shavaun Towers, FASLA, is a founding partner at Towers | Golde Landscape Architects and Site Planners. Her award-winning design projects range from institutional facilities, master planning, and urban design projects to larger residential work. Now principal of The Project Studio, she currently consults, writes, and lectures. Learn more about the profound influence Cornelia Hahn Oberlander had on her work.
We offer Continuing Education credits (CEUs) for LACES for successful completion of this course.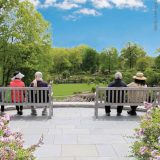 The Art of the Possible: Cornelia Hahn Oberlander's Landscapes: Beka Sturges
NYBG's Landscape Design Program Coordinator, Susan Cohen, FASLA, introduces this lecture by Beka Sturges, ASLA, a partner at Reed Hilderbrand, where she leads the firm's New Haven office. She also teaches at Yale School of Architecture and Connecticut College.
Women in Garden Design Tour
Saturdays; 2:30 p.m. | At the Garden

Join NYBG volunteer experts on a one-hour guided tour of NYBG's collections that were designed by women such as the Ladies' Border, Perennial Garden, Rose Garden, and more. The program will highlight not only these collections but also the legacies of the women who cultivated them.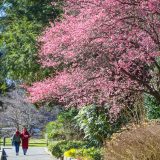 Plants as Liberation
In this wide-ranging series of interviews, with herbalists, houseplant enthusiasts, farmers, and gardeners, hear from Black women in the plant world and learn how they are using plants as a powerful expression of liberation and freedom.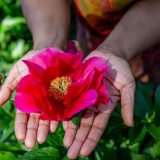 Plants as Liberation: Maryah Greene
Founder of Greene Piece and known as the Plant Doctor, hear from Maryah about her goal of making plants accessible for all.
Women of Bronx Green-Up and Bronx Community Farm Hubs: Highlight on Ursula Chanse
Learn more about Ursula Chanse, Director of NYBG's Bronx Green-Up and Community Horticulture, and her leadership role in helping neighborhood groups develop local gardens and urban farms, providing healthful food to their communities during the pandemic.
Harriet Tubman: "The Ultimate Outdoorswoman"
As a young enslaved girl in the swampy wetlands and upland forests of Dorchester County, Maryland, Harriet Tubman learned to navigate different ecosystems, mimic bird sounds, trap animals, and utilize plants for medicine and food. Maryland Park Ranger Angela Crenshaw reveals how Tubman, whom she calls "the ultimate outdoorswoman," gained the expert naturalist skills that later helped her guide more than 70 enslaved people to freedom through the Underground Railroad.
Finding the Mother Tree: A Conversation with Suzanne Simard
As a pioneer in the field of plant communication, ecologist Suzanne Simard, Ph.D., has spent a lifetime rigorously documenting the forests of North America and the Arctic. Through this thought-provoking lens, she shares fascinating insights into how trees have evolved to perceive one another, recognize their neighbors, and remember the past; how they elicit warnings and mount defenses; and how they compete and cooperate with one another. She shows how the ancient hubs of these communities—what she calls Mother Trees—play a crucial role in a given forest's vitality.
Lecture followed by conversation with Todd Forrest, NYBG's Arthur Ross Vice President for Horticulture and Living Collections.
Rooted in Plants
Hear from our Teen Explainers as they profile the lives and work of two incredible women.
Teen Explainers explore plant connections between the wetland ecology of the Everett Children's Adventure Garden and Blackwater National Wildlife Refuge, the land where abolitionist Harriet Tubman was formerly enslaved. Watch now.
Coming in March—NYBG's Teen Explainers highlight Janaki Ammal (1897–1984), the first woman from India to earn a doctorate in botany in America. Through her studies of plant breeding, she is credited with developing improvements for commercial plants to feed the Indian population and use her influence to preserve indigenous plants.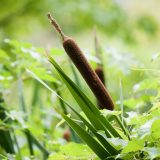 Women in Science, Botany, and Horticulture
NYBG's The Hand Lens dives into the stories of prominent women in botany and horticulture who have contributed to science through cutting-edge innovations and activism. Learn about groundbreaking women such as Jeanne Baret (depicted here), the first woman to circumnavigate the globe, but did so dressed as a man in order to participate in the expedition.