Women's History Month at Home
Monday, March 1, 2021 – Wednesday, March 31, 2021
Online
Celebrating Women's Contributions to Botany, Gardening, Food Justice, and More
NYBG's annual Women's History Month celebration goes virtual this year with engaging digital programs you can enjoy at home. Throughout the month we will explore and showcase the influential contributions of women—including women at NYBG—to botany, gardening, food justice, and more. Discover diverse and inspirational stories of women whose resilience and determination represent the essence of the female spirit.
Welcome from Karen Washington
Urban farmer, community gardener, activist, and NYBG Trustee Karen Washington delivers welcoming remarks on the importance of Women's History Month and introduces the virtual program.
Meet the Women of Bronx Green-Up and Bronx Community Farm Hubs
Get to know the women of Bronx community gardens and urban farms who have taken leadership roles in their neighborhoods, providing healthful food to their communities during the pandemic.
Garden Set: Amanda Gookin's Forward Music Project
Surrounded by orchids, GRAMMY-nominated cellist Amanda Gookin performs classical selections intercut with interviews by acclaimed contemporary female composers Leila Adu and Jessica Meyer.
Women in the Lab: Pathways to Careers in Botanical Science
NYBG Structural Botany and Genomics Laboratory Manager Tynisha Smalls and ECAG Coordinator of Family Programs Arvolyn Hill share their personal paths to careers in botanical science. After, a simple hands-on Strawberry DNA experiment inspired by Tynisha's research.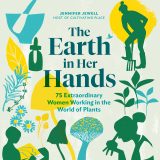 The Earth in Her Hands: Jamaica Kincaid in Conversation with Jennifer Jewell
Listen to celebrated author and avid gardener Jamaica Kincaid discuss one of her greatest loves, when she joins public radio host Jennifer Jewell for a riveting conversation about gardens, the plants that fill them, and the extraordinary women who tend them. Watch Video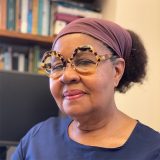 NYBG Beyond Books Club: Women's History Month
The Beyond Books Club Facebook group explores the work of Jamaica Kincaid, focusing on her book My Garden, along with recent podcasts and digital content from the renowned author.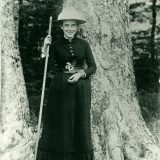 Women in the Field: An Enduring Legacy
An anthology of Plant Talk blog posts and The Hand Lens stories highlighting female botanists and their vital contributions to science—past and present.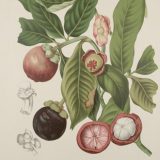 Overdue: Librarians of the LuEsther T. Mertz Library
Read about the foundational contributions of two women in the 20th century who helped build and grow the collections that make the Mertz Library the world-renowned resource it is today—for scientists, horticulturists, educators, students, teachers, research and scholarly communities, and the general public.
Get to know:
Anna Murray Vail: NYBG's first Librarian from 1900 to 1907. A botanist, she worked at Columbia University with Nathanial Lord Britton, her former teacher and co-founder with his wife, Elizabeth Knight Britton, of The New York Botanical Garden in 1891, the movement for which Vail was active as a member of the Torrey Botanical Club. Read the blog
Elizabeth C. Hall: NYBG's Head Librarian from 1937 to 1963. After her long tenure in the Library, Hall collaborated with Head of Horticulture Thomas H. Everett on the monumental ten-volume work, The New York Botanical Garden Illustrated Encyclopedia of Horticulture. The two later went on to form the Garden's Plant Information Service. Read the Blog
Groundbreakers: Women in Horticulture
The early 20th century gave rise to exponential growth and interest in gardens in the United States. As fields associated with domestic life, landscape architecture and gardening offered diverse opportunities to women who entered the workforce during this period. Often excluded from university programs, they learned through apprenticeship and study at new design and horticulture schools for women. Educated as professionals, women joined the burgeoning garden culture, designing city parks, university campuses, and residential gardens. Collectively, their work designing many of the period's greatest gardens left an indelible mark on the American landscape and cultural institutions of the era.
During the 130-year history of The New York Botanical Garden, many prominent women have contributed their talents to different parts of the 250-acre landmark landscape. In the first half of the 20th century, the Botanical Garden enlisted three distinguished female landscape architects whose influential designs have nurtured an enduring legacy, serving as inspiration for the many women who have followed in their footsteps.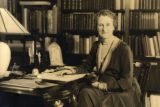 Beatrix Farrand (1872–1959) learned landscape architecture through association with notable gardeners and horticulturists. The niece of Edith Wharton, she was the only female founding member of the American Society of Landscape Architects in 1899 and one of two professional advisors at the first meeting of the Garden Club of America in 1913.
Beatrix Farrand Portrait, Beatrix Farrand Collection, Environmental Design Archives, UC Berkeley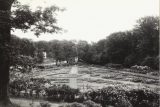 The iron fence and central gazebo that were part of Farrand's original plan would be completed later because of the high cost of raw materials at the time of construction.
Image: June 1930. LuEsther T. Mertz Library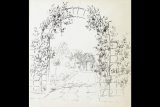 The Peggy Rockefeller Rose Garden at The New York Botanical Garden is among her most notable works. Over the course of her career she also designed more than 110 gardens for private estates, The White House, Princeton and Yale Universities, and other sites.
Image: LuEsther T. Mertz Library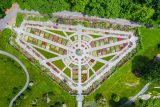 Today the Peggy Rockefeller Rose Garden, named in honor of the accomplished gardener and great patron of the arts, whose husband, David Rockefeller, funded the realization of the garden in 1988 according to Farrand's original plan, is hailed as one of the greatest rose gardens in the world.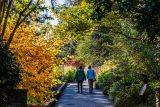 Ellen Shipman (1869–1950) worked as a gardener and collaborator with other designers before going on to design lavish gardens for private residences in the growing American suburbs. Her most well-known designs include Ladies' Border at The New York Botanical Garden, Longue Vue Gardens in New Orleans, and the English Garden at Stan Hywet Hall in Ohio. Few of her hundreds of other designs remain intact.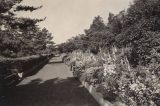 Known for her lavishly planted borders, Shipman was commissioned in 1928 to design a long mixed border by the Botanical Garden's Women's Advisory Council. Unlike the other living collections at the Garden at the time, this border was not arranged systematically by plant type, but aesthetically, in the tradition of the mixed English border.
Image: June 1941. LuEsther T. Mertz Library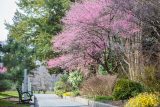 By 2001 very little was left of Shipman's original design for what became known as Ladies' Border. Renowned New York City public garden designer Lynden B. Miller redesigned the border into a display of unusual plants with a particular emphasis on those with interest in winter and early spring, experimenting with plants not considered to be hardy in New York, such as Prunus mume 'Peggy Clarke'.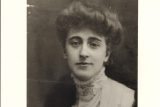 Marian Coffin (1876–1957) was a talented planner of large estates, designing more than 50 significant gardens in the Northeast. Formally trained in landscape architecture at Massachusetts Institute of Technology, Coffin was an astute businesswoman who insisted on the same fees as her male counterparts.
Marian Coffin, 1904. Courtesy Winterthur Library and Archives.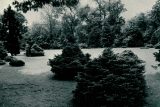 In 1946 The New York Botanical Garden commissioned Coffin to create a design that would highlight the beauty and diversity of the conifers in the collection that is known today as the Benenson Ornamental Conifers. She drew from her experience working with Henry Francis du Pont at Winterthur in Delaware to create a design that integrated the specimen trees harmoniously within the natural features of the site.
Montgomery Conifer Collection, 1949. LuEsther T. Mertz Library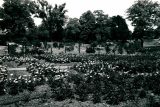 Several years later, Coffin was commissioned to design the Lilac Collection, which she originally proposed to encircle the Rose Garden. Ultimately, the design was revised several times before it was implemented in an adjacent location with beautiful views of the Rose Garden and other collections.
View of the Lilac Collection from the Rose Garden, 1956. LuEsther T. Mertz Library