Women's History Month 2023
Wednesday, March 1, 2023 – Friday, March 31, 2023
Online & At the Garden
NYBG is proud to celebrate Women's History Month to honor the lives and accomplishments of pioneers and trailblazers, researchers and innovators, activists and advocates, thought leaders and influencers, and many others. Throughout the month, we explore their consequential work that not only inspired and transformed NYBG but also contributed to important advancements in science, horticulture, and education that continue to inform environmental action and empower diverse communities.
Above: Ladies' Border was originally designed in the early 1930s by pioneering landscape architect Ellen Shipman. This garden was named by NYBG's Women's Auxiliary Committee, a group of women who were instrumental in establishing many of the Garden's most beautiful collections. In 2002 noted public garden designer and NYBG Trustee Lynden B. Miller redesigned the border as a display of unusual plants with a particular emphasis on those with winter and early spring interest, experimenting with plants not considered hardy in this region—an important effort that continues today.
Celebration of Life, Carol Gracie (1941–2021): Interpreter of Nature's Stories
Wednesday, March 8; 11 a.m. | Online
On International Women's Day 2023, NYBG will honor Carol Gracie, who was an accomplished and beloved member of the NYBG community in both Science and Education.
This celebration of Carol's life will feature presenters who knew Carol well and experienced her profound influence through acclaimed books on wildflowers of northeastern North America, photography and field research in the Neotropics, and engaging the public during botanical lectures, ecotours, and field trips.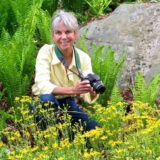 The Orchid Show: Natural Heritage
Through April 23 | At the Garden
Acclaimed landscape artist Lily Kwong, the designer of The Orchid Show's 20th year, presents a meditative and captivating design inspired by her ancestral connections to the natural world.
Kwong's vibrant and fantastical vision envelops visitors in thousands of orchids, allowing them to reconnect to nature amid picture-perfect beauty.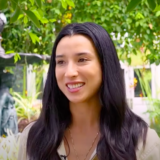 Rooted in Plants: Everett Children's Adventure Garden
Through March 31 | At the Garden
During Women's History Month, visit the Everett Children's Adventure Garden to explore the many ways in which women have contributed to our collective understanding and uses of plants!
In our greenhouse, investigate a plant light maze inspired by botanist Marie Clark Taylor, who was the first woman to earn a Ph.D. in botany from Fordham University in 1941. Make your own plant light maze to take home inspired by Taylor's research, while discovering inspirational stories about the influential legacy of woman botanists, herbalists, and environmentalists.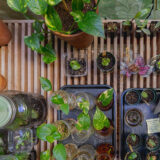 Women in Garden Design Tour
March 11, 19, & 25, 12:30 p.m.; March 26, 2:30 p.m. | NYBG

Join NYBG volunteer experts on a one-hour guided tour of NYBG's collections that were designed by trailblazing women, including Ladies' Border, the Perennial Garden, Rose Garden, and more. The program highlights not only these collections but also the legacies of the women who cultivated them.
Be sure to check out the latest on our Plant Talk blog to hear from some of our long-time volunteer tour guides, and the women of garden and landscape design—past and present—who inspire them most.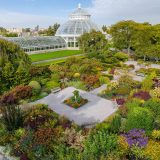 Native Plant Garden Tour
At the Garden and on the Bloomberg Connects App
This interpretive tour in the Native Plant Garden highlights the notable contributions of pioneering botanist and NYBG co-founder Elizabeth Gertrude Knight Britton to native plant conservation and bryology, the study of mosses and their close relatives.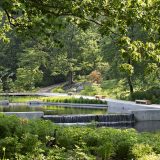 Plants as Liberation
In this wide-ranging series of interviews with herbalists, houseplant enthusiasts, farmers, and gardeners, hear from Black women in the plant world and learn how they are using plants as a powerful expression of liberation and freedom.
Interior Plant Styling with Maryah Greene
Thursday, March 23; 6:30–7:30 p.m. | Online
Looking for more plants in your urban life, but don't think you have a green thumb?
Plant consultant and former elementary educator Maryah Greene is here to provide support for all these new plant parents to create functional, long-term green spaces of their own.
Image ©Richard Carlota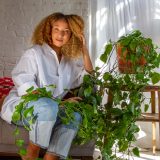 Rooted in Plants
Hear from our expert Teen Explainers as they profile the lives and work of two remarkable women:
Explore plant connections between the wetland ecology of the Everett Children's Adventure Garden and Blackwater National Wildlife Refuge, the land where abolitionist Harriet Tubman (1822–1913) was formerly enslaved.
Learn about the important contributions of Janaki Ammal (1897–1984), the first woman from India to earn a doctorate in botany in America. Through her studies of plant breeding, she is credited with developing improvements for commercial plants to feed the Indian population and use her influence to preserve indigenous plants.
Rooted in Plants: Janaki Ammal
Rooted in Plants: Harriet Tubman
Inspiring Women, on Inspiring Topics
Crop Wild Relatives and the Role of Herbaria in Future Food Crop Security
Dr. Jessica B. Harris and the African American Garden at NYBG
Women of Bronx Green-Up
Hear from the Director of NYBG's Bronx Green-Up and Community Horticulture about her leadership role in helping neighborhood groups develop local gardens and urban farms, as well as an apprentice (shown here) who aspires to create opportunities for youth in urban agriculture to explore future leadership roles in their communities.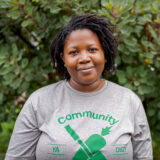 Women in Science, Botany, and Horticulture
NYBG's The Hand Lens dives into the stories of innovative women in botany and horticulture who have contributed to science through cutting-edge research and activism. Learn about groundbreakers such as Sarah "Sadie" Frances Price (depicted here) and others who are recognized for their significant contributions to our current understanding and appreciation of cryptogamic botany, the study of spore-producing plants.