Things to Do in the Forest
Go on a Garden Tour Guide-Led Walk

Birdwatch on the Weekly Bird Walks
Bird Walks occur every Saturday from September to June (with a few exceptions) at 11 a.m., and pass frequently through the Forest. To join one of these weekly walks, meet at the Reflecting Pool in front of the Leon Levy Visitor Center. A limited number of binoculars are available for loan at the Visitor Center Information Booth. Search for the birds that use the Botanical Garden in various seasons. Bring your binoculars and walk the Garden grounds with our bird expert, Debbie Becker, looking for the species that live here year-round as well as those just migrating through: owls, hawks, songbirds, and more. Learn about the bird-friendly plants and habitats that provide food, shelter, and nesting sites.

Learn more about these weekly walks on the Garden's blog, Plant Talk.

Download the NYBG Bird Walks bird list. Copies may also be obtained at the Garden's Visitor Center.

EBird is the online database of the Cornell Lab of Ornithology. We encourage everyone who birds at the Garden to register with eBird (for free) as a user, and to input your data into this database. "EBird's goal is to maximize the utility and accessibility of the vast numbers of bird observations made each year by recreational and professional bird watchers. It is amassing one of the largest and fastest growing biodiversity data resources in existence."
Go on a Canoe Trip
The Bronx River Alliance leads trips down the Bronx River from May to October. Check the Alliance's recreation page to learn more about this unique opportunity.
Learn more about our efforts to keep New York City's only freshwater river clean in this short documentary.
Take a Walk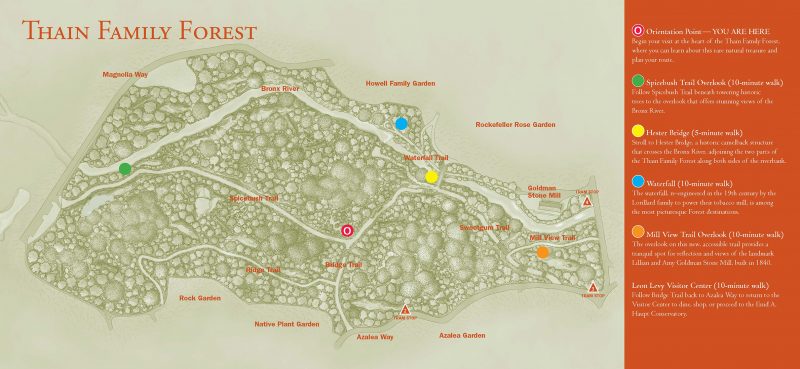 Take a Class in the Forest or About Native Flora or Fauna
Bring Your Class or Attend a Teacher Training
Volunteer
Volunteers in the Forest help control invasive plants, and participate in restoration tree planting, trail maintenance, propagation, and Bronx River clean-up. Learn how to become a Volunteer in the Forest.

Become a Citizen Scientist
The New York Botanical Garden's Citizen Scientist Phenology Program

Volunteer Citizen Scientists have been monitoring the phenology of native plants in the Forest for nearly a decade. Phenology means the timing of events throughout the growing season, for example when plants leaf out in spring, bloom, or lose leaves in fall. The Garden has partnered with the National Phenology Network to develop a long-term dataset that will show how a changing climate is impacting native plants in the Forest.

See a series of blog posts on the Citizen Scientist Phenology program on the NYBG blog, Plant Talk.
Forest Etiquette:
Do Stay on the paths for your safety and for the health of the Forest. Venturing off the paths disturbs wildlife, compacts soil, and damages plant communities.
Do watch for birds and wildlife.
Do Put Trash in Trash Cans.
Do Not feed the birds or other wildlife.
Do Not climb trees and rocks.
Do Not pick flowers, leaves, seeds or branches.