Bronx Green-Up offers the chance to discover the urban outdoors and learn by doing in local community and school gardens and urban farms. We offer seasonal, garden-based workshops and partner with sites on projects from planting and pruning to food production and light carpentry. We also offer more in-depth instruction through our certificate programs: Grow More Vegetables, Pruning, and Soil is Alive.
Instructional Videos
Haven't been able to make it to one of our free community workshops, but still want hands-on guidance? Watch one of our instructional videos by BGU staff and learn how to get your own garden ready for the season, replenish the soil, make a trellis to support vining crops, and more!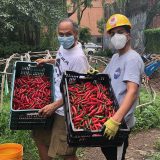 Workshops
Formed in 1988, the Botanical Garden created the Bronx Green-Up program to support the volunteer efforts of residents that were beginning to clean-up and beautify vacant, garbage-strewn lots in the Bronx.To host a workshop at your Bronx garden, contact us.
Topics include but are not limited to:
Beekeeping
Companion
Planting
Cover Crops
Drip Irrigation
Fruit Tree Care
Fruit Tree Pruning
Garden Planning
Garlic Planting
Native Plant Gardening & Design
Native Plants
Preparing for Winter (Farm School NYC)
Pruning
Raised Bed Building
Season ExtensionSeed Saving
Seed StartingThe Many Uses of Herbs
Weed & Herb ID
Why Grow Food?
Wreath-Making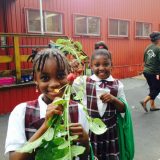 Certificate Programs
Since 1988, Bronx Green-Up has helped Bronx residents transform vacant, abandoned lots into vibrant green spaces—the community gardens, school gardens, and urban farms of the Bronx.
Curricula
Bronx Green-Up and NYC Compost Project, hosted by The New York Botanical Garden, offer a variety of workshops and events each month.
Our Grow More Vegetables curriculum is available free for download. Created for adult learners, the lesson plans can be adapted for all ages. Click on an individual lesson below or download all five for the full series.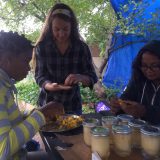 Tip Sheets
Learn your way around the basics of home gardening and horticulture with these practical tip sheets from Bronx Green-Up.
Choose a tip-sheet below for more information on a variety of urban gardening topics.