ON A NEW PATH OR THINKING ABOUT A CAREER CHANGE?
Think about upgrading your professional profile and actively pursing a prestigious NYBG Certificate. NYBG's Horticulture, Horticultural Therapy, and Landscape Design Programs are part of the School for Horticulture and Landscape Design, which is licensed by the New York State Department of Education. For more information about SHLD and the State license, please click here.
Develop new skills, contacts, and cross-disciplinary experience. Catch up with the latest industry changes. A NYBG Certificate is a serious credential that tells employers and clients that you've made a serious commitment to your professional development.
NYBG Certificate Programs Requirements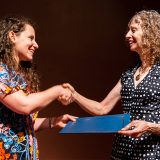 Certificate Graduation Ceremony
The 2020 ceremony will be held on Sunday, June 7. If you expect to complete your Certificate requirements or enroll in all remaining classes by June, you must inform the Manager of Student Services in writing at adultedgraduation@nybg.org or by completing the Application for Graduation form by March 27.
Call the Registration Office at 718.817.8747 with any questions.