On a new career path or thinking about a career change?
Think about upgrading your professional profile and actively pursing a prestigious NYBG Certificate. Develop new skills, contacts, and cross-disciplinary experience. Catch up with the latest industry changes. A NYBG Certificate is a serious credential that tells employers and clients that you've made a serious commitment to your professional development.
Want to jump on the fast track? Take advantage of an opportunity to really accelerate your progress in Floral Design, Botanical Art, Landscape Design, Horticultural Therapy, or Gardening by enrolling in one of our Summer Intensive Programs. You can complete up to half the requirements toward your Certificate in just a few weeks!
NYBG Certificate Programs Requirements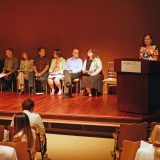 Certificate Graduation Ceremony
The 2018 ceremony will be held on Sunday, June 3. If you expect to complete your Certificate requirements or enroll in all remaining classes by May 25, you must inform the Manager of Student Services in writing or by completing the Application for Graduation form by February 23. You will be informed if you are eligible for a Certificate by April 20.
Call the Registration Office at 718.817.8747 with any questions.