NYBG is the perfect place for a team building event with your staff. Our expert instructors—all working professionals in their field—lead our hands-on workshops across a number of fun and different activities. Events will either take place in a classroom at our beautiful 250-acre grounds in the Bronx, or at our Midtown Education Center in Manhattan, just two blocks from Grand Central Terminal at 20 West 44th Street.
We would be delighted to work with you to customize the best workshop to fit your needs. All materials are provided and group tours can be organized for an additional fee.
Contact us at 800.322.6924 or lwhitmer@nybg.org for more information and to register.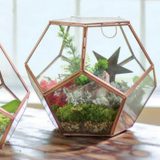 Living Décor: Succulent, Moss, and Stone Terrarium
Use a selection of plump succulents, thick moss, and stones, housed in a geometric glass vessel, to make a delightful oasis garden for your work desk or windowsill. Under the guidance of Maria Colletti, author of the book Terrariums: Gardens Under Glass, let your team work together to make something beautiful that they can be proud of.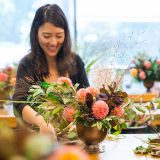 Simple and Sleek Flower Design
Fifteen minutes is all it takes to make a stylish arrangement that will transform any space. Working with a variety of seasonal flowers, learn how to execute simple yet impactful designs that are versatile, sophisticated, and eco-friendly. All participants will take home their own finished arrangement—and plenty of easy design ideas to make many more.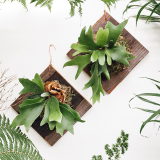 Art Alive: Mounting Staghorn Ferns
Add a touch of majesty to your office! Groups involved in this workshop will mount staghorn ferns with sphagnum moss onto a wooden board for a living work of art to hang on their wall. You'll learn how to properly care for the plants so they will thrive indoors all year long and vote on whose piece should be hung up at reception for all to see!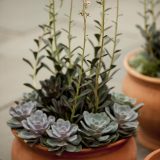 Creating Greenspaces: Succulent or Herb Garden
Container gardens are the easiest way to add a small but vital greenspace to the average city apartment, and what could be more charming than a self-contained succulent or herb garden? Invite your team to come and make their own while learning the basic elements of planting design and maintenance.