Important projects undertaken by Mellon Fellows during their research period at NYBG are published here to study and enjoy in further detail.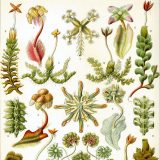 RICHARD SPRUCE AND THE TRIALS OF VICTORIAN BRYOLOGY
Elaine Ayers, Ph.D. candidate, Princeton University, History of Science Program, studied at The New York Botanical Garden's Humanities Institute during the summer of 2015 as Junior Research Fellow, sponsored by the Gladys Krieble Delmas Foundation.
She conducted research on the history of 19th-century bryology, using Richard Spruce's field notebooks and specimen lists in the LuEsther T. Mertz Library and Archives, and his own specimens in the William and Lynda Steere Herbarium Ayers was able to construct a larger story about the cultural valence of moss, about Victorian botanical collectors, and practices of preservation from the field to the museum, herbarium, and garden. Her research resulted in an acclaimed 2015 article for The Public Domain Review: "Richard Spruce and the Trials of Victorian Bryology." The article was recommended in The Paris Review's "On the Shelf," and was published in an edited volume, The Public Domain Review: Selected Essays, Vol. III.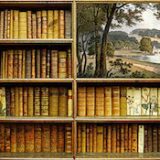 POETIC BOTANY: ART & SCIENCE OF THE EIGHTEENTH-CENTURY VEGETABLE WORLD
Ryan Feigenbaum, Ph.D., Villanova University, Department of Philosophy, studied at The New York Botanical Garden's Humanities Institute from mid-July, 2015 through April 20, 2016.
He conducted research in the LuEsther T. Mertz Library, the William and Lynda Steere Herbarium, and the Nolen Greenhouse, to complete an innovative digital exhibit, entitled Poetic Botany: A Digital Exhibition's First Look—the Art and Science of the 18th-centruy Vegetable World. The exhibit is inspired by Erasmus Darwin's Botanic Garden, a Poem (1791), which combines verse, scientific essays and images to convey the latest findings in botany in a novel format. Taking Erasmus Darwin as its principal figure, the online exhibit also emulates his format, by combining resources from the Mertz Library and Herbarium—including botanical images, photos, and plant specimen, as well as interviews with plant scientists—to convey the history of botany, its related social issues, and the magnificence of the vegetable kingdom, all to an online audience.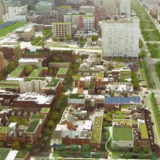 GREENING CITITES IN AN URBAN AGE
Theodore Eisenman, Ph.D., University of Pennsylvania, Department of City and Regional Planning, studied at The New York Botanical Garden's Humanities Institute from March through December 2015.
Since January 2016, Assistant Professor, University of Massachusetts, Amherst, Department of Landscape Architecture and Regional Planning. His research at NYBG and the LuEsther T. Mertz Library addressed the historical, scientific, and perceptual bases of city greening, and focused on two historically significant phenomena: global urbanization; and increasing awareness of human alteration of the biosphere (Anthropocene). Part of his research was published in this important article: "Greening Cities in an Urbanizing Age: The Human Health Bases in the Nineteenth and Early Twenty-first Centuries" (2016), Change Over Time. 69.
Support provided by The Andrew W. Mellon Foundation