NYBG's Humanities Institute recently launched the Foodways Initiative, an important project that explores and celebrates the relationship of food to culture and identity.
Foodways—the cultural, historical, and social traditions that surround food—provide context for what we eat, how it gets to us, who prepares it, and who is at the table.
As foodways are central to understanding the experience of immigrants, Indigenous peoples, and descendants of the African Diaspora, food can lead us to stories of survival and help reclaim a sense of identity and kinship—especially when languages or cultural traditions have been prohibited and erased.
The initiative has four main components—all of which will be recorded and archived below. Check back regularly for news and updates.
The Food Dialogues
This webinar series kicked off the Foodways Initiative in the spring of 2021. It brings together prominent authors, chefs, and historians for important conversations that re-examine our notions of culture and identity through food.
The series moderator was Dr. Jessica B. Harris, America's leading expert on the food traditions of the African Diaspora. Her 12th book, High on the Hog: A Culinary Journey from Africa to America, has inspired a new Netflix series. The three-part Food Dialogues series featured Carla Hall and Tonya Hopkins on May 21, continued with Michael Twitty and JJ Johnson on June 18, and concluded with Von Diaz and Maricel Presilla on July 23.
Carla Hall & Tonya Hopkins Watch
Michael Twitty & JJ Johnson Watch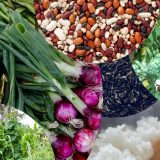 A Seat at the Table Symposium
June marks the opening of NYBG's Garden-wide exhibition, Around the Table: Stories of the Foods We Love. This symposium brings a unique perspective to those stories, with two compelling sessions that explore how Black farming informs American history and culture in New York City and across the country. Register now.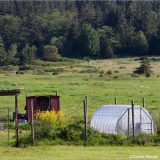 Foodways Workshops
In parallel with the Food Dialogues, Foodways Workshops explore the food and drink traditions of particular Bronx communities.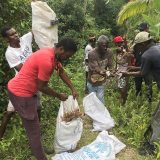 Bronx Foodways Oral Histories Project
Anchoring the larger Foodways Initiative is The Bronx Oral Histories Project, a multi-year effort to collect, record, and archive untold personal food narratives from our large and diverse network of Bronx community gardeners and urban farmers—making them accessible to the public.
Hearing people's stories in their own words, voices, and perspectives increases our cultural understanding while helping avoid sweeping generalizations that can stereotype and diminish communities. Working with Bronx Green-Up—NYBG's long-standing outreach program that supports more than 200 Bronx community gardens, school gardens, and urban farms—the Humanities Institute will identify and gather Bronx food stories that will live on… Photography students from the Bronx Documentary Center will capture portraits alongside these food stories to create a unique and dynamic portrayal of our Bronx neighbors and their food stories.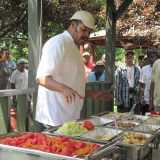 Generous support provided by The Andrew W. Mellon Foundation