Every day at the Garden, kids and teens can embark on an exciting adventure—the adventure of discovering the world of plants.
Across the Garden and in two gardens designed especially for kids, the Everett Children's Adventure Garden and the Ruth Rea Howell Family Garden, hands-on activities introduce youths of all ages to the thrill of science exploration and of seeing what seeds and soil can become.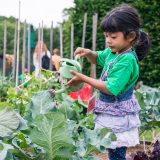 Children's Gardening Program
Hands-on gardening is the perfect way for kids to get outside and get their hands dirty. Guided by instructors, kids plant, tend, and harvest fresh produce; prepare and taste the fruits of their labor; and enjoy the beautiful natural setting of the Edible Academy and its programs in the Ruth Rea Howell Family Garden.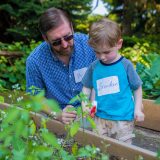 Nature Explorers
Toddlers are natural scientists! Discover the wonders of nature in each season together with your little one. Come geared up to explore the great outdoors in all elements. Stories, songs, and hands-on activities are all a part of the fun!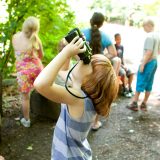 Camps
NYBG offers camps during February and spring school breaks and during the summer. Each camp program offers playful and creative opportunities for children to explore the world around them using a mix of nature exploration, science activities, art, group projects, our vast 250 acres, and more. The opening of the Edible Academy in June 2018 will feature a new set of camps highlighting art, sustainability, and culinary themes.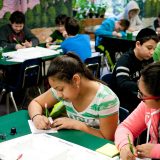 Girl and Boy Scouts
Bring your Girl and Boy Scout troops to the Garden for an after-school program specially tailored to help your Scouts earn a badge. During this hands-on, indoor/outdoor program, Garden educators will work with your troop to fulfill the requirements for the badges. Call 718.817.8124 for more information.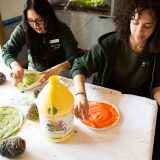 Explainer Program
This volunteer program for teenagers provides a chance to make new friends, spend time outdoors, and develop new skills. Explainers volunteer in the Everett Children's Adventure Garden to help facilitate programs and assist visitors.
The Explainer Program is supported by the Clif Bar Family Foundation, The Everett Foundation, Motorola Solutions Foundation, and the John Ben Snow Memorial Trust.