Designed by horticulturists and botanists, the academic courses introduce and explore the multifaceted field of horticulture. Students are preregistered for the 639 clock hours of required courses, the majority of which are held in the Watson and Library buildings.
Areas of study include botany, horticulture, landscape design, and communications and business management.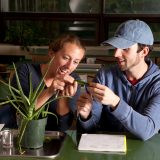 The School of Professional Horticulture Catalog contains more in-depth information about the School, course descriptions, activities, and more.
View our courses here.
For full course descriptions, download our catalog.
If you have any questions, or would like to tour the School's facilities, please call 718.817.8580.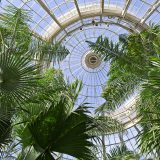 Course Schedule
Total Requirements:
639 Course Hours
1,981 Horticulture Rotation and Internship Hours
Year 1
Winter
(9 Weeks, January – March)
129 Course Hours
100 Rotation Hours
COURSE CODE COURSE HOURS
Plant Structure BOT 315 24
Soil Science I: Physical Properties HRT 301 18
Landscape Techniques HRT 311 15
Greenhouse Techniques HRT 312 15
Landscape Plants: Conifers HRT 333 12
Mathematics for Horticulturists HRT 356 6
Entomology HRT 480 15
Landscape Design History LAN 301 24
Spring/Summer
(20 Weeks, April – September)
152 Course Hours
420 Rotation Hours
COURSE CODE COURSE HOURS
Plant Diversity BOT 317 24
Morphology of Flowering Plants BOT 431 16
Introduction to Public Speaking COM 101 12
Horticultural Techniques: Turf Equipment HRT 315 8
Landscape Plants: Spring Trees and Shrubs HRT 334 12
Landscape Plants: Spring Perennials HRT 336 9
Landscape Plants: Annuals HRT341 8
Landscape Plants: Bulbs HRT342 12
The Basics of IPM (Integrated Pest Management) HRT 380 12
Insect Pests of Landscape Plants HRT 381 15
Graphics I LAN 311 24
Fall
(15 Weeks, September – December)
105 Course Hours
221 Rotation Hours
COURSE CODE COURSE HOURS
Systematic Botany BOT 432 21
Career Preparation COM 102 8
Landscape Plants: Fall Trees and Shrubs HRT 331 12
Landscape Plants: Broad-leaved Evergreens HRT 332 8
Landscape Plants: Summer and Fall Perennials HRT 337 9
Tropical Plants HRT 361 14
Plant Propagation I HRT 411 18
Disease Identification and Management HRT 481 15
Megan Booth from The New York Botanical Garden