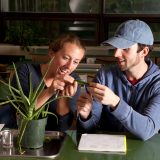 Admissions
Admission is selective and based on a combination of academic achievement, practical experience, and demonstrated commitment to the field of horticulture. A new class of students enrolls yearly in January.
Requirements
Must possess 500 hours of hands-on experience in the field of horticulture prior to entering the School. This experience may be volunteer work experience. (Most public institutions have volunteer opportunities.) These hours must be fulfilled under the guidance of a horticulturist. If working full-time at 40 hours per week, applicants may expect to complete the 500-hour requirement in about three months.
Hands-on experience in horticulture is defined as the action of planting, maintaining, recording, and/or removing live plants. Cashiering or working in one's own garden does not qualify. Experience must be under the guidance of a horticulturist in the public or private sector. (A horticulturist is a person possessing a degree in horticulture or having more than five years of work experience.) Examples of acceptable work experience are horticulture internships, nursery work, growing, landscape installation, and gardening. Applicants should be prepared to discuss their work experience during their interview.
Must possess at least a high school or a New York State equivalency diploma. Two years of post-secondary education are strongly encouraged and preferred. All transcripts must be submitted.
Must be at least 18 years of age at the time of entrance in the School.
Must be able to do rigorous work both indoors and outdoors.
Must complete an application form, submit it by the due date, and interview either in person or by phone (out-of-town applicants).
Application Procedures
The following must be submitted:
Completed application form
Non-refundable application fee of $75 in U.S. currency by check or money order, made payable to School of Professional Horticulture.
Photocopy of birth certificate or other official proof of age and nationality, such as a passport
Transcripts of all post-secondary education; if none, then high school transcripts are required
Proof of work experience such as letters from employers stating start and end dates and the hours completed
Three letters of reference. This can be combined with documentation of practical experience. At least one letter should be a horticultural reference
Medical examination report on the form supplied by the School
Résumé
International Students
The School welcomes applications from foreign nationals and is authorized by the U.S. Immigration and Customs Enforcement to accept non-immigrant foreign students. All international applicants must submit, in English, the eight items previously listed, as well as the results of the Test of English as a Foreign Language (TOEFL) with a minimum score of 500 (paper based), 175 (computer based), and 75 (Internet based). The School also accepts the International English Language Testing System (IELTS) with a minimum band score of 6 in the academic module.
A letter of financial support in English or translated into English from the applicant's bank is required.
Note: Applicant's proficiency in English should be sufficient to understand class instruction and to converse comfortably.
Interview Process
Interviews are scheduled for the third week of September. The Admissions Committee is made up of approximately 10 members of horticulture staff, instructors, administrators, and alumni. Applicants should be prepared to discuss all aspects of their horticulture experience, their career aspirations, and how the School can help them achieve their goals. We encourage applicants to present their experience through a work portfolio. Applicants from outside the New York area will be interviewed by phone or Skype.
Non-Discrimination Policy
The School of Professional Horticulture has a policy of non-discrimination. It prohibits discriminatory actions against and treatment of applicants for admissions based on actual or perceived race, color, national origin, alienage or citizenship status, religion or creed, gender, disability, age (18 and over), military status, prior record of arrest or conviction, marital status, genetic predisposition or carrier status, sexual orientation, or status as a victim of domestic violence, a sex offense, or stalking. The New York Botanical Garden is an affirmative action, equal opportunity employer. The School is accessible and accommodating to persons with disabilities. Please ask about special needs accommodations when you apply.
Timelines
All required application materials must be postmarked by August 1. Late applications will be accepted only at the discretion of the director. All applicants who have met the School's admission requirements will be interviewed by the end of September. Those who are accepted for enrollment will be notified by October 1.