Internships in Plant Research and Conservation at the New York Botanical Garden
Each year, the Botanical Garden places 25–30 post-graduate, undergraduate, and high school interns in its diverse programs in plant science. Working directly with Garden scientists and their technical teams, interns participate in cutting-edge research in systematic botany, molecular phylogenetics, structural botany, genomics, bioinformatics, geographic information systems, and economic botany. Internships offer a taste of the culture of plant research, allow students to explore their interests in science, and provide excellent educational experiences to include in resumes.
Full-time unpaid summer internships are available, as well as part-time unpaid internships during fall and spring semesters. A small number of paid internships may become available for summer 2018, see availability here. The 10-week summer internship program includes weekly enrichment activities and skills workshops that aid in students' professional development and provide full exposure to the research activities in plant science at the Garden.
The Selection Process
Scientist mentors submit potential internship projects to an intern selection committee on an ongoing basis. The selection committee reviews internship applications three times a year, with the goal of placing a competent and diverse cohort of interns in Science each year during spring, summer, and fall. Candidate application forms and submitted one-page letters/statements of interest are used for matching candidates with submitted projects. As necessary, interviews (live and/or phone) are conducted with potential mentors as part of the application process. Candidates are given brief internship project descriptions prior to interview/s with potential mentor/s. Applicants are notified of final decisions by early December for spring internships, mid-April for summer internships, and early August for fall internships.
Housing Options
Most interns rent an apartment or a room in a home. Your scientist mentor can provide you with information on specific housing options that may be available to you for the period of your internship. In addition, International House in Manhattan provides housing for graduate students and trainees throughout New York City. Information on International House is available here.
Please note these internships are unpaid.
How to Apply
Interns from both the United States and abroad are encouraged to apply. There are four parts to the application kit and process:
1. Fill out the internship application form, available here.
2. Prepare a one-page letter or summary statement setting out your interests in science, what you would like to gain through an internship in science, and why you would like to intern in the Science Program at The New York Botanical Garden. The Science Pages on the Garden's Web site provide a good overview of plant science at the Garden, and the Meet the Scientists page provides information on the research programs of individual scientists.
3. Provide two letters of recommendation (one from your advisor and one from a teacher/professor familiar with your work and interests).
4. Mail, e-mail, or fax the application, one-page letter/summary statement, and letters of recommendation to the following:
Volunteer Services
Manager of Volunteer Services
New York Botanical Garden
2900 Southern Blvd.
Bronx, New York 10458-5126
e-mail: volunteer@nybg.org.
fax: 718-817-8977
phone: 718-817-8765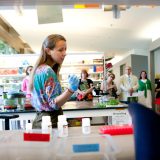 2018 Science Internship Enrichment Calendar
The Science Internship Enrichment calendar consists of weekly activities that include behind the scenes tours of NYBG's facilities, lectures, and discussions of the Garden's research programs.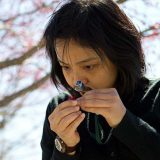 NYBG Internship Opportunities for Fordham Biology Students
Internships are available at The New York Botanical Garden throughout the year for undergraduate Fordham Biology students interested in gaining professional experience in plant research and conservation.