Meet Former (and Current) Interns
The New York Botanical Garden's science programs have hosted many interns over the years. Here is information about some of them.
Olivia Asher (2017-2020)
Lehman College student Olivia Asher has always been interested in lichens. "I would see them growing all over the place, but it was really hard to find information about them. They look very cool, they're pretty, they're unique." Olivia began working as a volunteer at NYBG during her freshman year, assisting James C. Lendemer, staff lichenologist in the Garden's Institute of Systematic Botany.
Asher's research consists of naming lichen species, describing them, and identifying how they're similar to and different from other species. Her efforts are already making an impact in the field—and paying off. Just last semester, Lehman's School of Natural and Social Sciences selected Asher as the Con Edison STEM Scholar for the 2019-2020 academic year. The annual scholarship, established by the energy utility in 2016 at a number of New York City area public institutions, including Lehman, comes with a $5,000 award. In addition, Asher was lead author on a 2018 paper published in The Bryologist that announced a new lichen species.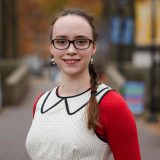 Olga Khmelnitsky (2017-2018)
Olga Khmelnitsky was an NYBG intern as a student at Bronx High School of Science. Her internship project serves as a beautiful example of the integration of fieldwork, laboratory study (including DNA sequencing), and classical mycological research to describe a new genus of bolete mushrooms, Ionosporus.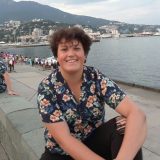 Kristie Arlotta (2017-2018)
Kristie Arlotta was an NYBG intern as a high school student in 2017 and 2018. She studied the effects of rising temperature on red maples (Acer rubrum) in New York City by analyzing flowering time data from herbarium specimens and observations. She concluded:
"Climate data were obtained from Central Park and showed a steady increase in temperature over the past 150 years. Acer rubrum was observed to flower approximately 20.9 days earlier than in the past."
Ms. Arlotta, whose project won the Naval Science Award at the Westchester Science and Engineering Fair in 2018, is now studying environmental science at the University of Delaware.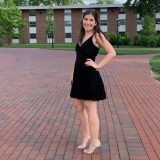 Colette Berg (2016)
Colette Berg was an NYBG herbarium digitization intern in 2016 as a Fordham Undergraduate. Colette earned a Master's degree and is currently a Ph.D. student at the University of Montana. In a 2019 publication, she used herbarium specimen data to understand the relationship between plant flowering times and climate change.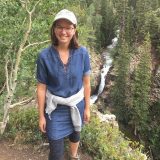 Sarah Skubel (2016)
Sarah Skubel was an NYBG intern in 2016 as an undergraduate at the SUNY College of Environmental Science and Forestry. As an intern, Sarah studied the acoustic profiles of native cottonwood (Populus) species. After graduation, Sarah enrolled in a Master's program in Phytochemistry at Rutgers University.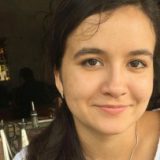 Stephanie Schmiege (2013)
After she graduated from Bowdoin College, Stephanie Schmiege did an NYBG internship studying the anatomy and morphology of lycophytes and ferns. She then worked on ecological research projects in North Carolina and New Mexico. Stephanie returned to New York and is currently a Ph.D. student at Columbia University doing her dissertation research on the physiological effects of drought stress in tropical trees.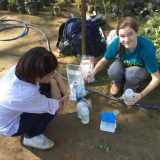 Jessica Allen, Ph.D. (2011)
As an NYBG intern in 2011, Jessica Allen assisted with integrating the Kohlmeyer collection of marine fungi into the herbarium. She earned her Ph.D. studying lichen systematics through the Garden's affiliated program at the City University of New York. Dr. Allen is now Assistant Professor in the Biology Department at Eastern Washington University.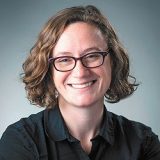 Heather Meyer, Ph.D. (2008-2011)
Heather Meyer, Ph.D., was an NYBG intern from 2008-2011 while she was an undergraduate at Sarah Lawrence College. As an intern, Heather studied the molecular systematics of the green algal genus Nitella. She earned a Ph.D. from Cornell in 2016, and she is currently a postdoctoral fellow at the Carnegie Institution for Science.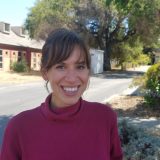 Aaron Socha, Ph.D. (2001)
Aaron Socha, Ph.D., was an NYBG intern as a Fordham undergraduate in 2001. For his internship, he studied the ethnobotany of cacti. Aaron went on the earn a Ph.D. in Biomedical Science from the University of Rhode Island, and he is currently Assistant Professor in the Environmental Science and Chemistry Department at Queens University of Charlotte.