Research activities of the CCS are local, regional, and international, with six core projects and more than 30 affiliated projects.
Core Projects
Core projects are central to the mission of the CSS, they and are led by CCS staff, and they address either specific issues of conservation concern or broad ongoing research activities.
New York City EcoFlora
The New York City metropolitan area, while densely populated and highly urbanized, is also home to a significant diversity of plants, animals, fungi, and habitats, which are under increasing threat by development and a changing climate. Data about this biodiversity are scattered across natural history collections, publications, and institutions.
The NYC EcoFlora Project is creating a dynamic online repository for information about the City's plants and their ecology, in part based on citizen science efforts in all five boroughs. An online checklist of local plants will help build ecological awareness to enable citizens to serve as stewards of New York City's environment.
More information: New York City EcoFlora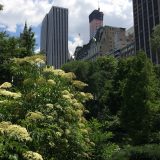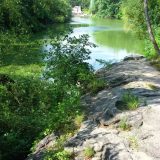 NYBG Invasive Species of New York City Working Group
Confronting one of the more serious conservation challenges in New York City, this group focuses on emerging invasive plant species. The group meets monthly, addresses selected topics, and issues published reports. The goal is to raise awareness among the public and regulatory agencies that are concerned with detection and eradication of invasive species.
The first species for focus is the emerging invasive Incised Fumewort (Corydalis incisa).
More information: Incised Fumewort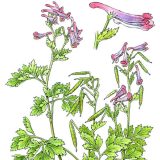 Strategy for Conserving Ash Trees in the Northeast: Collection, Analysis, and Outreach
NYBG scientists, working as part of a multi-disciplinary, multi-institutional team, are investigating the genetic diversity of ash trees as part of an effort to protect North American ash trees from the invasive Emerald Ash Borer (EAB). The project's goal is to elucidate the relationships of ash species and study patterns of susceptibility to EAB.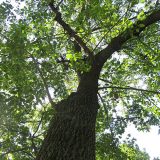 Conservation Assessments of Plants of the Americas
The lack of a comprehensive list of the world's threatened plant species is one of the greatest impediments to strategically protecting the world's flora, and fewer than five percent of the world's plant species have had their global conservation status assessed by the International Union for the Conservation of Nature (IUCN).
To address this shortfall, NYBG has developed a streamlined method to conduct plant conservation assessments using Geographic Information Systems (GIS) analysis of data derived from herbarium specimens. Employing this protocol, NYBG proposes to complete preliminary conservation assessments for all species of plants of the Western Hemisphere. These assessments will be used by international agencies such as the IUCN and the Convention on International Trade in Endangered Species (CITES), which prevents the illegal trafficking of endangered species.
More information: Conservation Assessments of Plants of the Americas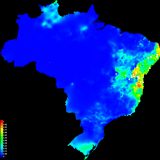 Forum for Conservation Action
The Forum for Conservation Action provides a mechanism for NYBG scientists and collaborators to share information, cross-fertilize thinking, assess opportunities, optimize responses, and catalyze action. The Forum holds workshops and produces written reports for conservation practitioners and policymakers.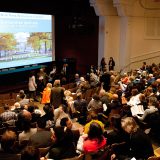 Research Projects
Affiliated Research Projects of the Center for Conservation Strategy are NYBG research projects that have conservation of plants or fungi as integral components and that support one or more of goals and targets of the Global Strategy for Plant Conservation.