New York City EcoFlora
The New York City metropolitan area, while densely populated and highly urbanized, is also home to a significant diversity of plants, animals, fungi, and habitats, which are under increasing threat by development and a changing climate. Data about this biodiversity are scattered across natural history collections, publications, and institutions.
The NYC EcoFlora Project is creating a dynamic online repository for information about the City's plants and their ecology, in part based on citizen science efforts in all five boroughs. An online checklist of local plants will help build ecological awareness to enable citizens to serve as stewards of New York City's environment.
More information: New York City EcoFlora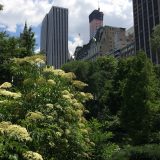 Research Projects
Affiliated Research Projects of the Center for Conservation Strategy are NYBG research projects that have conservation of plants or fungi as integral components and that support one or more of goals and targets of the Global Strategy for Plant Conservation.