Assembly and Evolution of the Amazonian Biota and its environment: An Integrated Approach
Barbara Thiers & Scott Mori
Amazonia is Earth's most iconic center of biological diversity and endemism and is among the most important terrestrial biomes due to its contributions to global systems ecology. This project seeks to answer the question of how the modern Amazonian biota and its environment assembled across space and time. The research will use a comparative approach that integrates across the disciplines of systematics, population biology, ecosystem structure and function, geology, Earth systems modeling and remote sensing, and environmental history. The project is a collaboration with Brazilian scientists, represents the most integrative examination of Amazonian biodiversity and its history to date. The New York Botanical Garden's contribution to this project is to make data from more than 100,000 specimens from two important plant families in Amazonia, the Lecythidaceae and Bignoniaceae, available as a map layer that can be integrated with other environmental data for an application that can be used to address the central question of the origin of Amazon biota.
More information: The Lecythidaceae Pages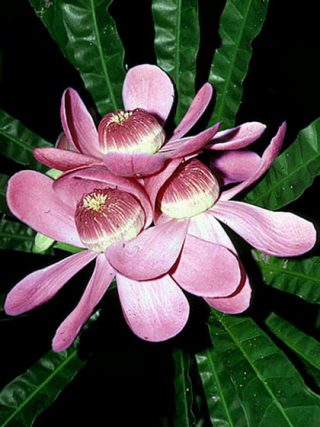 Gustavia fosteri, a species of Lecythidaceae described by Scott Mori.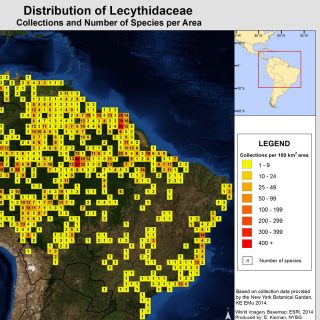 Map showing collection density of Lecythidaceae.