Wayt Thomas, Barbara Thiers, and collaborators
The World Flora Online (WFO) will provide free, one-stop searching for scientifically verified data on more than 350,000 known plant species, including a comprehensive list of accepted species names, modern scientific descriptions, images of preserved and live plant specimens, links to other portals with plant information, and the geographic distribution and conservation status of each species. Google will fund the Garden's work on the WFO with a three-year grant totaling $600,000, as well as provide technical support. The Alfred P. Sloan Foundation has also generously funded this project with a multi-year grant of more than $1.15 million.
The New York Botanical Garden is one of four prominent international botanical institutions that are leading the effort to create the WFO; the others are the Royal Botanic Gardens, Kew, the Royal Botanic Garden Edinburgh, and the Missouri Botanical Garden. The WFO is the first goal of the Global Strategy for Plant Conservation, an ambitious plan adopted by the United Nations' Convention on Biological Diversity to halt the loss of plant biodiversity around the globe by 2020. In addition to the four leadership institutions, which constitute the WFO Executive Committee, 30 international research institutions are primary partners in contributing content. The WFO will be an invaluable tool for plant scientists and researchers, who will use it as a primary reference, and for conservationists and policy-makers, who will consult it for information about rare and endangered species and to understand what plants grow where.
More information:
Project Website: World Flora Online
Science Talk blog post: Scientists From Around the World Meet for World Flora Online
More than two dozen of the world's leading plant scientists gathered at The New York Botanical Garden in 2016 to review the progress that has been made on WFO and to plan the way forward so they can meet the goal of completing the database in 2020.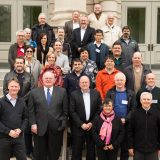 Great Big Story: World Flora Online