The Amazon
A NATURAL HISTORY TOUR OFFERED BY THE NEW YORK BOTANICAL GARDEN
JULY 2006 (dates to be determined when airline schedules are set)
LEADERS: SCOTT MORI, CAROL GRACIE, and MICHAEL BALICK
Other 2006 trip: Crete, April 25 - May 2, 2006
---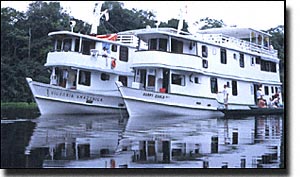 We will travel on a boat similar to these. © Mori, 2001.
Since 1987, The New York Botanical Garden has been leading small, natural history tours to the Brazilian Amazon. Our knowledge of the flora and fauna of the area, combined with our love of the rain forest and the caboclo people who live there, permits us to offer a trip unlike any other. Our trips combine informal natural history instruction with a myriad of other activities – swimming in the tea-colored waters of the Rio Negro , hiking in the rain forest, fishing for piranha, early morning birding by canoe, nocturnal trips for alligator spotting, occasional cookouts, and visits to the famed Opera House and colorful markets in Manaus . We will spend time on both the Amazon and the Rio Negro to learn about the differences between the two ecosystems. Our 2006 trip is planned to take advantage of the good weather of the dry season when the river level is high, thus allowing us to explore many of the smaller tributaries by boat.
In our motorized canoes, we will travel through the seasonally flooded forest, stopping frequently to investigate plants and observe birds that we encounter along the river. We will occasionally be able to go ashore for short hikes in the forest when we reach areas of higher ground. We'll also visit with the friendly caboclos who live along the river. These resourceful people have adapted to life in a region that requires marked changes in their lifestyle as the river rises and falls (by a difference of up to 40 feet annually).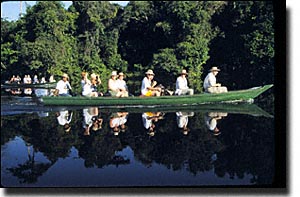 We will make excursions in small, motorized boats.
© C. Gracie, 1991.
Dr. Scott Mori and his wife, Carol Gracie, have extensive research and guiding experience in the tropics and have led over 30 tours for The New York Botanical Garden. They are authors of A Guide to the Vascular Plants of Central French Guiana, among other publications. Both also contributed family treatments and photographs for the recently published Flowering Plants of the Neotropics.
Carol and Scott are delighted to have their friend and colleague, Dr. Michael Balick, joining them this year. Michael is Vice President and Chair, Botanical Science Research and Training at NYBG. His research interests include the palm family and ethnobotany, the relationship between plants and people. Michael has worked with traditional cultures in many countries including Belize, Brazil, China, India, and the Federated States of Micronesia. He is especially interested in the use of plants for medicinal purposes and has led many expeditions in search of plants with medicinal properties.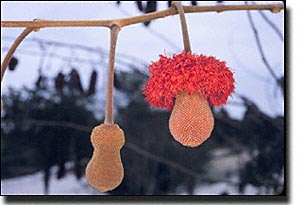 Parkia discolor, a bat-pollinated member of the mimosoid legume family.
© S. A. Mori, 2001
For additional information, call 718-817-8647, e-mail to cgracie@nybg.org, or send this form to: Carol Gracie, The New York Botanical Garden, Bronx, NY 10458.
---
EARY REGISTRATION IS ADVISED
Fee: $2350 including meals, accommodations (double occupancy), and field trips; not airfare. Airfare to be determined when airline schedules are confirmed. A $400 non-refundable deposit per person is required to hold a place for the tour.
---
Go back to Ecotours