ITALY – THE DOLOMITES
A NATURAL HISTORY TOUR OFFERED BY THE NEW YORK BOTANICAL GARDEN

JUNE 18 – 27, 2007
NYBG LEADERS: Scott Mori & Carol Gracie; GUIDES: Bob Gibbons & Peter Marren
Our recent wildflower tours to Greece, Spain, and France have been a delight. This year we've chosen to explore the Dolomites in northern Italy. The Dolomite mountain range is one of the most extraordinary and dramatic places in Europe. Limestone peaks of exceptional beauty tower above forests and flowery pastures, yet it is readily accessible due to a network of good roads and well-maintained trails. In this 10-day, 2-center tour, we will see some of the finest parts of the Dolomites as well as a wonderful range of flowers, butterflies and birds.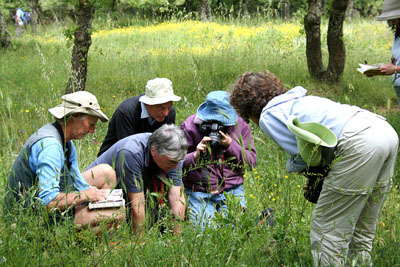 Botanizing in a European meadow
© Carol Gracie

We will meet at the airport in Venice at 4 pm on June 18th, from where we transfer to our first hotel in Selva, in the upper reaches of the beautiful Val Gardena. From there, we can easily reach the spectacular Valle Lunga on foot, and visit the high passes around the Sella group of mountains. As we drive over the passes, we can stop anywhere that takes our fancy - in ancient woods with wintergreens and coral-root; by a boggy area with marsh orchids, butterworts and copper butterflies; or among the endless flowery pastures, alive with orange lilies, orchids, gentians, pasque-flowers, and other wildflowers. Nutcrackers are common in the woods, and alpine choughs may come down to share our picnics!
Our second hotel is superbly situated on a lake at Misurina, nestled below the amazing Tre Cime (Drei Zinnen) range, high above Cortina. The views are spectacular, and there are marvelous walks in flowery habitats surrounding the hotel. From there we'll explore the more eastern parts of the Dolomites. On one day, if the weather is reasonable, we'll go up the high toll road to the peaks of Tre Cime, which should be superb for flowers such as cushions of the gorgeous pink Potentilla nitida (a dolomite specialty). On another day, we can walk up through the lovely woods and flowery pastures of the Val di Fanes where we should see lady slipper orchids (common in this area), louseworts, alpine clematis and many other flowers, together with a host of mid-altitude butterflies. There's an excellent walk up an easy trail towards Monte Piana directly from the hotel. We return to Venice on June 27th where you may catch your flights for home or, perhaps, choose to extend your stay in Italy .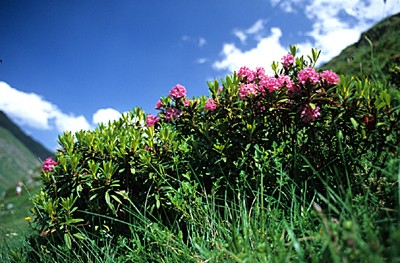 Rhododendron ferruginea
© Carol Gracie

Our guide will again be Dr. Bob Gibbons. Bob is the author and/or photographer of over 30 books, among them Travellers' Nature Guides: Greece and Flowers at My Feet. His patience, enthusiasm, and knowledge of flora and fauna will add much to the pleasure of the trip. Bob's co-leader will be Dr. Peter Marren, also a well-known writer and naturalist. Among his books are Britain's Rare Flowers, The New Naturalists: Half a century of British Natural History, and Aurelian Legacy: British Butterflies and Their Collectors.
Dr. Scott Mori and his wife, Carol Gracie, have extensive research and guiding experience and have led over 30 tours for The New York Botanical Garden. They are authors of A Guide to the Vascular Plants of Central French Guiana, among other publications. Both also contributed to the recently published Flowering Plants of the Neotropics. Carol's book, Wildflowers in the Field and Forest: the Northeastern United States was published in April of 2006.
Tour Fee: $2895, not including airfare. Resister with a $400 per person non-refundable deposit payable to The New York Botanical Garden and sent to: Carol Gracie , New York Botanical Garden, Bronx, NY 10458 . For additional information, e-mail cgracie@nybg.org (best method of contact) or call 718-817-8647.
Go to More Information
Go to Reservation Form
Go Photo Gallery
Go back to Ecotours