Posted in History on February 17 2014, by Daniel Atha
Daniel Atha is an Associate Editor of the NYBG's systemic botany journal, Brittonia, and a researcher specializing in floristics, taxonomy, and economic botany. He has taught classes in anatomy and systematics at the Garden's School of Professional Horticulture and is currently working on a project to develop identifying DNA barcodes for plants of the Northeastern United States.
---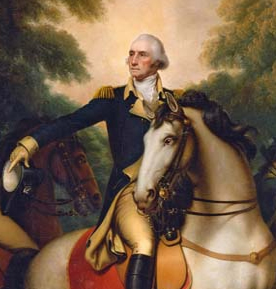 As a botanist, I'm often asked to comment on anything and everything vaguely plant related. So it was when two dedicated Garden volunteers, Jerry and Carol Bodian, shared highlights of their recent trip to Washington, DC that included a trip to the Corcoran Gallery of Art. Having seen Rembrandt Peale's "Washington before Yorktown", they wanted to know about the plant so prominently depicted in the painting and what I thought of it.
Well… Jerry and Carol, I can tell you for certain that I agree with the Corcoran's taxonomy of the species. Identifying plants in artwork is not always simple and unambiguous, but thanks to Peale's skillful and detailed rendition, there is no mistaking the mullein plant, scientifically known as Verbascum thapsus. Peale's use of light, position, and fine detail all suggest the plant is important to his "story" and he wanted there to be no mistaken identity.
But what does it mean? Here is where I disagree with the Corcoran's interpretation that "the hearty mullein weed by the horse's right foreleg likely alludes to Washington's might and integrity as well as to the new nation, emerging whole and ready to bloom after the war."