In Search of the Flowers of the Amazon
Posted in Nuggets from the Archives on March 19, 2014 by Stella Sylva
Stella Sylva is an Administrative Curator of the William and Lynda Steere Herbarium at The New York Botanical Garden. Each Wednesday throughout Women's History Month, Science Talk will celebrate one of the many women of science to have left a mark on botanical history.
---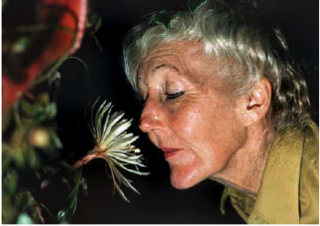 Margaret Ursula Mee (1909-1988) was an English woman who, in the 1950s, traveled the Amazon's rivers and explored the forest at a time when women simply did not do those things. She marveled at the richness of the flora in Brazil, and over the next three decades made a total of 15 expeditions, documenting with her brushes and pencils the flora and fauna of the Amazon.
Her formal art training was in ceramics and sculpture, though her botanical paintings were totally different from the three-dimensional art she created. She rendered the strength and beauty of the human form with great energy. By contrast, her paintings of plants are carefully detailed and accurately depict the botanical structures of the highly diverse flora of the Amazon. It was as if she entered the heart of the objects she painted.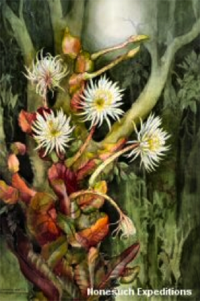 One of the Amazonian flowers she captured through her art was the mysterious moonflower (Strophocactus wittii, also called Selenicereus wittii), which blooms and dies in a single night. You can watch a short video about her search for the moonflower here.
Margaret Mee also illustrated animals and landscapes of the forest in the course of her travels, and as she witnessed the increasing destruction of the rain forest throughout the years, she used her art and her public appearances to increase the world's awareness of the need to preserve the Amazonian environment.
Mee spent many years living in Brazil, teaching art in São Paulo. At the time of her death, she had produced an impressive body of illustrations, diaries, and sketchbooks. Much of the collection now resides at Kew.
---
Moonflower illustration courtesy of Nonesuch Expeditions