A Unique and Lovely Little Fungal Collection
Posted in Nuggets from the Archives on April 7, 2014 by Ellen Bloch
Ellen Diane Bloch is the Collections Manager of the Cryptogamic Herbarium, part of the William and Lynda Steere Herbarium. The Cryptogamic Herbarium includes the fungi collection.
---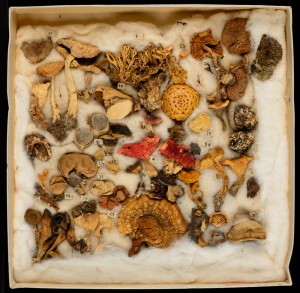 One of my favorite discoveries in the 30 years that I have worked in the William and Lynda Steere Herbarium is an odd and beautiful collection of fungi. Packed away in a charming box from Hink's Department Store in Berkeley, California, is an assortment of nearly 40 specimens collected in Mount Desert Island, Maine, in 1935. How did these dried fungal specimens from Maine come to be placed in a box from a California retailer and then end up at The New York Botanical Garden?
To answer that question, it helps to know that the fungi were collected by Elizabeth Eaton Morse, who devoted much of her life to collecting and studying fungi. Born in Framingham, Massachusetts, in 1864, Morse taught elementary school for several years before entering Wellesley College, where she graduated with a diploma from the School of Art in 1891. After decades of teaching and supervising in Massachusetts and New York City schools, Morse returned to Wellesley College, receiving a B.A. with a major in botany in 1926.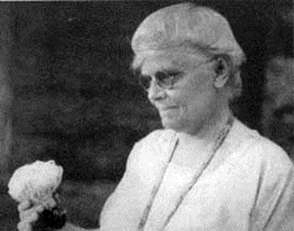 That summer, while on vacation, she presented herself at the office of Dr. Lee Bonar at the University of California, Berkeley. She explained that she wanted to study cryptogamic botany, a diverse group of species comprising algae, fungi, lichens, and bryophytes (mosses and related plants). By the end of that summer, Morse decided to retire from teaching, devote herself to the study of fungi, and move to Berkeley. Although registered as a part-time graduate student at Berkeley, where she was given working space in the attic of the Botany Building, she was not a candidate for a higher degree. However, as a guest of the Department of Botany, she was provided with storage and work space for more than twenty years.
She regularly spent her summers on collecting trips, including a trip to Maine in 1935. In her later years, she distributed much of her extensive collections, starting with the herbarium at Berkeley but also including smaller sets that went to a number of institutions, including, in 1948, the Botanical Garden.
This slideshow requires JavaScript.
Inside the box from the long-gone Berkeley department store is a folder addressed to Dr. F. J. Seaver, the Garden's fungi specialist at the time, with collection notes and a cover letter. "Tho' rather common species, they show what Maine coastal climate may do in reducing size," she wrote. "I carried these specimens in my suit-case for several weeks, for safety's sake! I hope they may last many years."
You can read more about Elizabeth Eaton Morse here.
---
Photo of Elizabeth Eaton Morse courtesy of the UNC Herbarium, as found in Mycologia Vol. 48 No. 3, 3 May – June 1956, pg. 439