Sweet and Stinky!
Posted in Learning Experiences on July 21 2011, by Ann Rafalko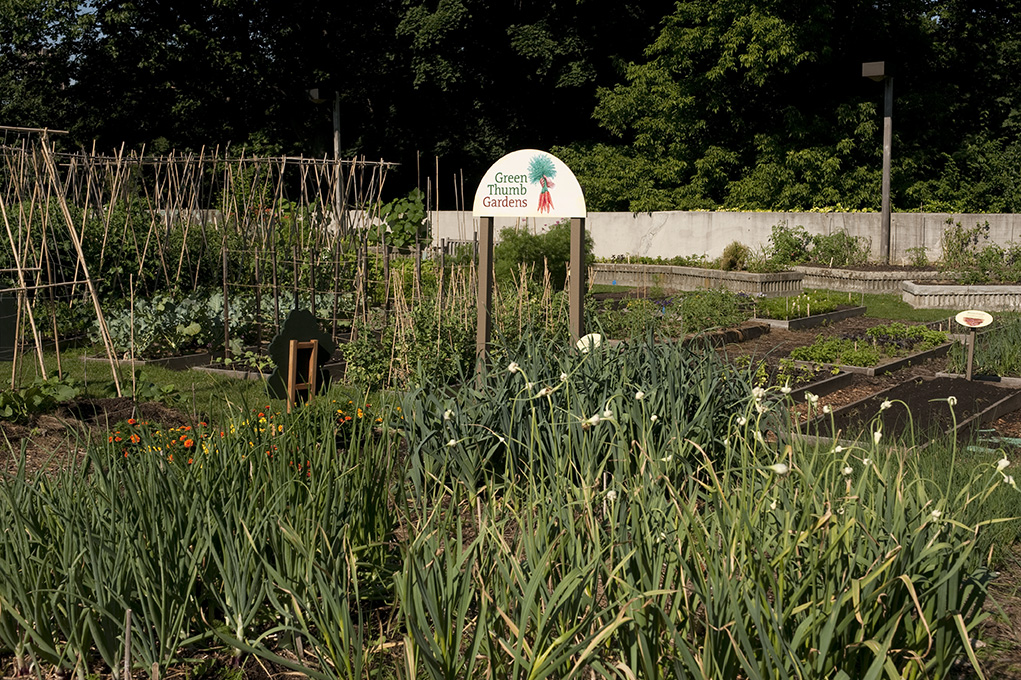 The Ruth Rea Howell Family Garden is a New York City treasure. It's an amazing one-and-a-half acre site where children and families can learn about plants and the natural world through hands-on gardening. Each afternoon children–with help from their parents, volunteers, and staff–are encouraged to dig, weed, compost, plant, tend, and harvest in garden plots. These ongoing gardening activities are complemented by a changing roster of programs that encourage children to explore seasonal garden-related themes.
This month's theme is Sweet and Stinky! Aromatic alliums such as onions and garlic, and herbs such as basil and oregano love the summer heat. Follow the "sweet and stinky" smells to the Family Garden to discover these culinary champions. Savor the scents and tickle your taste buds at our cooking demonstrations or try these delicious recipes at home!
Sweet and Stinky Recipes
Savory-Summer Teas
Ingredients. For every one quart of water, you will need: 1/2 cup fresh sage leaves, washed, or 1/4 cups dried sage leaves, 1/4 cup fresh lemon balm leaves, and 2 tablespoons turbinado sugar.
Instructions. Bring one quart water to a boil. Remove from heat. Add all ingredients and stir. Allow to steep. After 10 minutes or so, remove leaves and serve, or chill and serve with ice and fresh sprigs of herbs.
Allium-Herb Confetti
Ingredients. For every baguette (or loaf of bred), choose 1 cup of fresh herbs and alliums, chopped, of any or all of the following: basil, sage, mint, rosemary, thyme, oregano, cilantro, chives, scallions, garlic, onions.
Instructions. Finely chop all the herbs; mince all the alliums. Toss gently. Serve on top of bread. If desired, spread the bread first with butter or cheese and then dress with a sprinkle of the Allium-Herb Confetti (1 tablespoon per slice).
The Garden's Besto Pesto
Ingredients. 2 cups fresh basil leaves, packed; 1/2 cup extra virgin olive oil; 3 medium sized garlic cloves, minced; salt. Optional: 1/ cup grated Parmigiano-Reggiano or Romano cheese; 1/3 cup of pine nuts, walnuts, sunflowers seeds, or pumpkin seeds.
Instructions. In a food processor, combine basil, olive oil, and minced garlic. Blend until well-chopped, adding salt and more olive oil if necessary for the desired smoothness. Add nuts and cheese if desired; blend until smooth. Sever immediately or jar to save.
Sweet Caramelized Onions
Ingredients. 3-5 onions (large or medium) of any color, olive oil (1 tablespoon per onion), 2-3 tablespoons butter (optional), salt.
Instructions. Cut root end off of the onions and peel off the paper. Cut onions in half and lay the flat surface on the cutting board. Carefully cut the onions into slices. In a large sautee pan over medium-high heat, heat the olive oil until shimmering. Carefully add the onions. Cook stirring regularly until they begin to turn golden-brown. Add the butter (if using) and salt. Continue to cook and stir the onions for about 35 minutes. Serve hot, or keep in the refrigerator in a sealed container for up to 1 week.