Kiku Classification: Irregular Incurve, Reflex, and Regular Incurve
Posted in Behind the Scenes, Exhibitions on September 28 2011, by Ann Rafalko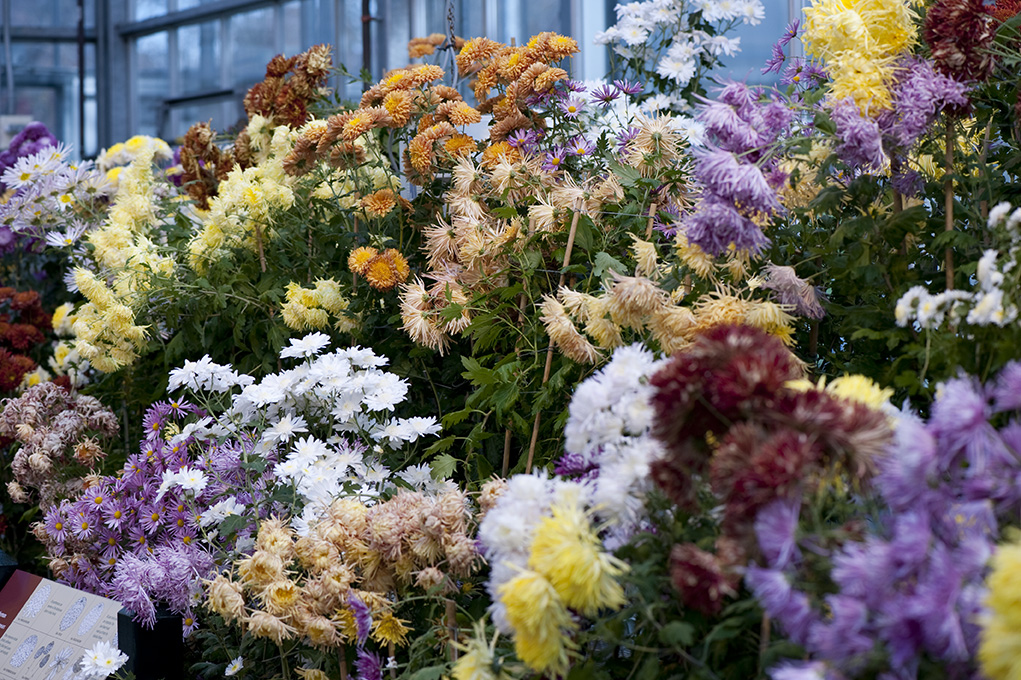 Beginning October 5, Fall Flowers of Japan will feature a dazzling display of kiku in the Enid A. Haupt Conservatory! Don't miss these magnificent Japanese chrysanthemums trained to grow in a mesmerizing variety of shapes and styles. In anticipation, we're taking an in-depth look at these fascinating flowers.
There are 13 different classes of chrysanthemums with varying flower forms defined by the National Chrysanthemum Society. Chrysanthemums are members of the Asteracea (aster or daisy) family.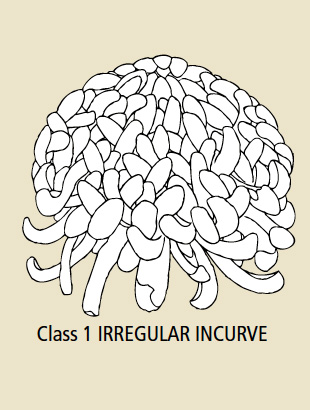 These are the giant blooms in the chrysanthemum world. Many of the chrysanthemums in the ogiku or single stem display come from this class. Some of the ozukuri or 'Thousand Bloom' come from this class as well. The florets are loosely incurved, meaning that they curve upward and fold into the center of the plant. The lower florets on the flower fall in an irregular pattern giving the bloom a skirted look. Many of the flowers in this category are six to eight inches across.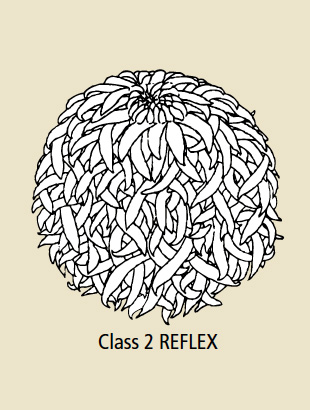 In this category the florets curve downward. The tops of the blooms have a somewhat flattened appearance when they are fully open. Some people describe the flowers as having a mop-like appearance. Others say that the way the florets tend to overlap make the flower look like plumage on a bird. These flowers are not as large as Irregular Incurve but they can still span four to six inches in diameter.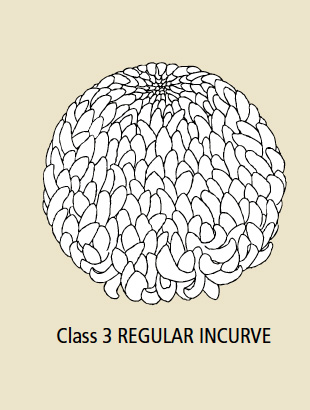 For those who like symmetry and order, this is your category. The florets form a nice round bloom that forms a ball. This category used to be named "Chinese." The flower size can reach up to four to six inches in diameter.
Come back tomorrow–and everyday between now and October 5–to learn more about these amazing flowers and the fantastic displays they can be trained into. Tomorrow we'll explain how the fabulous ozukuri, or 'Thousand Bloom,' is created from a single flower stem!
Illustrations courtesy of the National Chrysanthemum Society USA