Chris Benz on What to Wear in a Winter Wonderland
Posted in Behind the Scenes on December 8 2011, by Ann Rafalko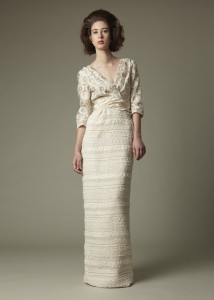 One of the highlights of the winter social calendar is, without doubt, The New York Botanical Garden's Winter Wonderland Ball. The Ball serves as an exclusive chance for the Garden's Junior Patrons to enjoy the magic of the Holiday Train Show as well as cocktails, dinner, and dancing.
But what to wear when the invitation suggests "Winter white, and black, black tie"? We asked fashion designer and member of the Ball's Benefit Committee Chris Benz what he thinks ladies should wear to this most festive event.
I think the Winter Wonderland Ball is the perfect moment to dress up in full holiday glamour Think white, silver, texture, glitter and luxury It's also a great time to play with accessories A little bit of dramatic sparkle
and shine go a long way!
~ Chris Benz
The look at the right from Benz's 2011 Resort Collection is a perfect example of this luxe look, and it looks perfectly delightful to us!