Posted in Adult Education on April 5 2012, by Joyce Newman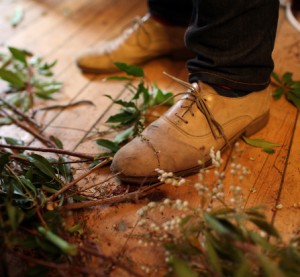 It was only a few short months ago that Emily Thompson stood in the White House's East Room and envisioned the task of "bringing outside in" to create her exciting holiday decor project for the First Family. Now Thompson is sharing some of her inspired creative talents at The New York Botanical Garden. Later this month, she will bring her floral shears to the NYBG's midtown location, encouraging students to delve into the design elements that embody the forest, bog, and jungle.
Thompson's work is best known for its sculptural and naturalistic elements as inspired by her native Vermont. Her clients are not only among the internationally famous, such as the Obamas, but include her local Brooklyn friends and restaurants as well. Having studied at the Pennsylvania Academy of Fine Arts and earned an MFA in sculpture at UCLA, Thompson eventually moved to New York, where she set up her shop–Emily Thompson Flowers–on Jay Street in Brooklyn's DUMBO district, one of the city's premier art havens.