Posted in Adult Education on January 2 2018, by Esther Jackson
Esther Jackson is the Public Services Librarian at NYBG's LuEsther T. Mertz Library where she manages Reference and Circulation services and oversees the Plant Information Office. She spends much of her time assisting researchers, providing instruction related to library resources, and collaborating with NYBG staff on various projects related to Garden initiatives and events.
---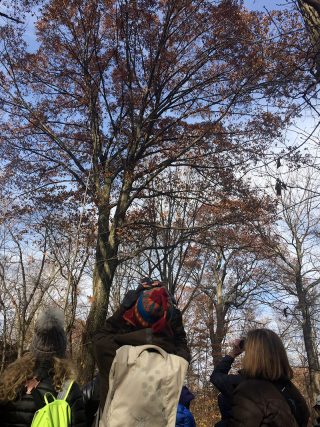 On December 2, a beautiful late fall day, I had the opportunity to join a cohort of students in the NYBG "Urban Naturalist: Foundations" class. I had talked to students in the spring 2017 cohort when they visited the Library to check out books related to their course, but I didn't know quite what to expect out of my first four-hour class.
The expert naturalist leading my class was Nancy Slowik. For the Foundations course, students learn from a group of expert naturalists who focus on different aspects of the urban natural environment such as plants and animals, birds, and insects. My class's focus was on plants, though once we got into the field we had the opportunity to observe other organisms, including birds and fungi.
Our day began with Nancy asking the class what we wanted to do with our naturalist knowledge after the course ended. She encouraged students to apply their knowledge and become citizen scientists with NYBG or environmental activist organizations. Instruction about the course's capstone project—keeping a nature journal for a patch of land, recording observations about weather, organisms, and changes to the landscape over time, and writing a natural history of the patch—quickly became a lively discussion about the ethics of naturalist observations. Nancy cautioned the class that in winter, animals in particular must conserve their energy in order to survive and that observations should be careful and respectful, so as not to negatively impact other organisms.