Orchid Trivia from Around the World
Posted in The Orchid Show on March 19 2013, by Sonia Uyterhoeven
Sonia Uyterhoeven is the NYBG's Gardener for Public Education.
---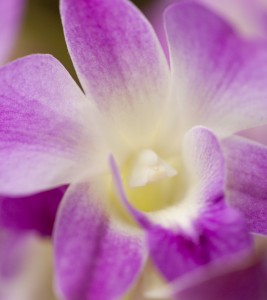 A few weeks ago I put together some orchid trivia for one of my colleagues, and I thought I would share some of the interesting tidbits with you. As part of the entertainment for The Orchid Show this year, we are featuring "Music from the World of Orchids." Each weekend throughout the run of the exhibition an eclectic array of musicians will perform popular tunes from countries that are known for their beautiful orchids. The line-up includes musicians from Brazil, Peru, Cuba, Mexico, India, Cameroon, Portugal, and the United States, giving visitors a rich and varied sensory experience.
Picking up a little knowledge beforehand can make your visit to the Orchid Show even more enriching than it already is, though we'll certainly have plenty of experts on hand to answer any of your questions while you're here. For now, here are some fun pieces of orchid trivia for you to ruminate over while you listen to exotic melodies!

Africa
—  While epiphytic orchids are found growing in the humid, mountainous regions of Africa, many of this country's orchids are terrestrial. They have adapted to prolonged periods of dormancy and drought by developing underground tubers and rhizomes that are used as food reserves.
—  Satyrium coriifolium is one of the most attractive terrestrial orchids in South Africa, with bright yellow orange flower spikes. It is a robust plant with large underground tubers, growing on moist, sandy coastal plains above sea level.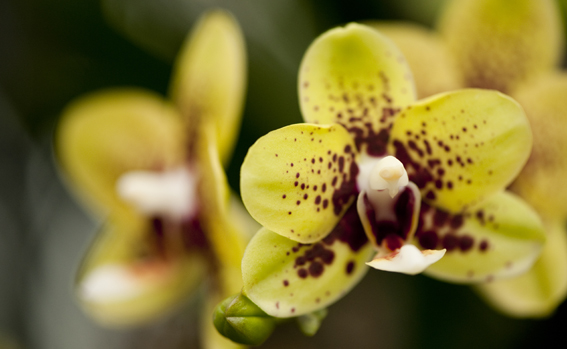 America
—  The poster child in the world of North American orchids is the pink lady-slipper (Cypripedium acaule). It is a tough orchid that survives in acidic woodland soil.
—  The showy lady-slipper (Cypripedium reginae) is generally found growing in bogs or fens where there is ample moisture. It is one of the last slipper orchids to flower, blooming in late spring to early summer.
Brazil
—  Aganisia cyanea is a showy, true blue orchid that grows in the wet lowland rainforests of Brazil. During the monsoon season, the orchid, which grows on lower sections of large trees, can be submerged in flood water for weeks without any harm.
—  While many orchids are found in the tropical rainforests in Brazil, Cyrtopodium polyphyllum grows on sandy soil by the seaside.
Cuba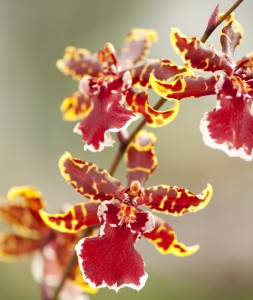 —  Encyclia phoenicea–known as the chocolate orchid for its fine chocolate fragrance–has a chocolate brown sepal and petals, and a striated raspberry lip. It's endemic to Cuba, growing in low hills and plains–a real treasure.
—  Tolumnia sylvestre is a dainty epiphytic orchid that grows on the branches of shrubs. It was once thought to be terrestrial because it is often found growing in pine needle litter, but it was later discovered that the roots of the orchid did not penetrate the ground–it wraps its tiny roots around the pine needles, sitting above the ground.
India
—  Dendrobium densiflorum grows in the northeastern hills of India. Its common name is the "pineapple orchid" due to its dense cluster of bright yellow flowers with orange lips.
—  In India, the tuberous roots of some orchids such as Orchis latifolia are dried and ground to form a nutritive powder and drink called Salep. It is thought to cure a number of ailments and provide restorative powers.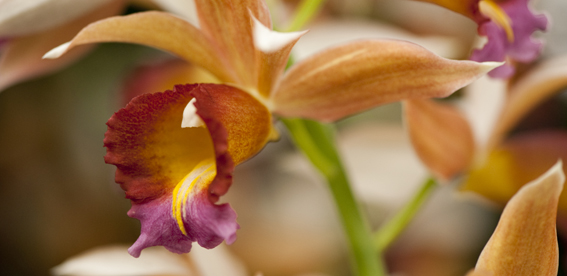 Of course, that's only a small sampling of what you can learn while visiting this exhibition thanks to the orchid experts we'll have roaming the Enid A. Haupt Conservatory on Saturdays and Sundays, all of whom are happy to answer your questions. Come join us every weekend during The Orchid Show for "Music from the World of Orchids" at 1 and 3 p.m. in the Ross Hall. While you're here, think about joining in on one of our Orchid Care Demonstrations being conducted in the Conservatory GreenSchool (inside the Conservatory) at 2 and 3 p.m. With a little effort and a bit of curiosity, it's easy to pick up the orchid habit!