Use the Force
Posted in Gardening Tips on March 28 2013, by Ann Rafalko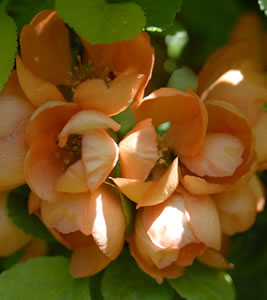 Spring! Where are you spring?
I am not one to heap praise on any woodchuck, but I refuse to place blame on poor old Charles G. Hogg. I mean, can you imagine being ripped from your cozy bed by a bunch of strangers and asked to predict the future? I am also not one to complain too much about the weather. I'm an eternal optimist, and I see in this slow spring the opportunity for an extra long blooming season when the daffodils, cherry blossoms, and tulips do finally show their faces above ground. But, that doesn't mean I am immune to trying to force a little spring inside my apartment, and I do mean that literally.
And this was all brought to mind when Amy Weston posted a really interesting question to our Facebook wall. "I recently cut some branches from my flowering quince bush to bring inside to force," Amy writes. "They are now blooming but they are white, not the salmon color that they are on the bush. I assume it must have something to do with the fact that they are getting something from the dirt, since they are just in water. Do you know why this would happen?" It fascinated me.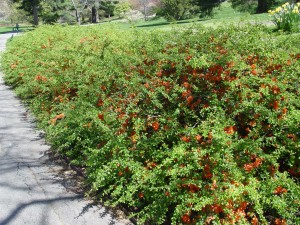 In case you are not familiar with them, flowering quince are woody shrubs that belong to three separate species in the genus Chaenomeles. They are related to the quince we see most commonly in the United States, Cydonia oblonga, but are grown as ornamental plants and not for fruit. To see a stunning example of flowering quince, come visit us in a few weeks and take the Tram from the stop near the Visitor Center. While you are waiting, turn around and look for a long, low hedge of intense orangey-salmon flowers. They are simply stunning when in full bloom! And, just like Amy mentions, they are not white. So I emailed Deanna Curtis, the Garden's Associate Curator of Woody Plants, to see if she knew what was going on.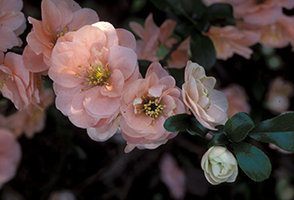 Deanna was quick with a reply. "It isn't the water. Cut and forced quince branches are frequently used in floral arrangements (without changing color). Sometimes Japanese flowering quince produce branches with different color blossoms–like a white fading to pink, and pink fading into red combination–all on the same plant. Most likely this plant has multi-toned flowers. Perhaps some of the whiter flowers were the first to open and Amy may notice some salmon flowers as more buds open."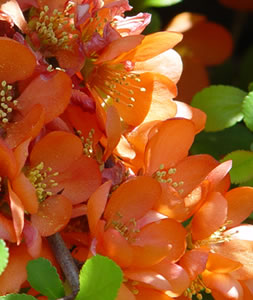 So we'll be curious to hear from Amy again as to whether there are any salmon colored blooms further down the branch! In the meantime, would you like to force your own branches at home? There are many plants suitable for forcing indoors, including Forsythia, Spirea, Spicebush, Pussywillow, and many other early blooming trees and shrubs. If you don't have a backyard from which to harvest some branches (cutting them from city parks is a serious no-no), you can find them at many street corner bodegas in the city. And if you can keep you branches in a cool place within your home and change the water at least once a week they will last longer and you will be rewarded with beautiful blooms for a few weeks. If you're making cuttings from your backyard, try spacing your cuttings at two-week intervals so you will achieve a continual succession of flowering, thereby extending the indoor display well into late spring.
So there you have it! If spring refuses to spring outside, bring it inside and force the matter. What is your favorite plant to force when spring won't show?