Posted in Gardening Tips on May 23 2016, by Joyce Newman
Joyce H. Newman is an environmental journalist and teacher. She holds a Certificate in Horticulture from The New York Botanical Garden.
---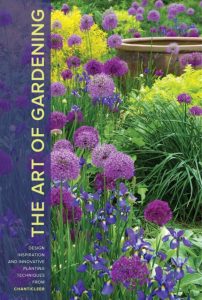 Chanticleer Garden, a 35-acre public garden not far from Philadelphia, is considered to be one of the greatest, most magical gardens in America. Open to visitors from April through October, Chanticleer's six gardeners are responsible for the design, planting, and maintenance of particular areas of the property, including 15 distinct garden "rooms," each on the scale of a good-sized residential garden, and each with its own look and feel.
Each gardener's artistic vision is beautifully documented in The Art of Gardening: Design Inspiration and Innovative Planting Techniques from Chanticleer available at NYBG Shop (Timber Press, $34.95). Lavishly photographed by Rob Cardillo, and co-authored by the Chanticleer Gardeners, the book reveals the gardeners' personal styles, as well as their varied approaches to color, to the use of sculpture and other media, to experimentation, and to choice of plants.