Wild Medicine: Healing Plants Around the World
Posted in Behind the Scenes, Exhibitions on May 9 2013, by Ann Rafalko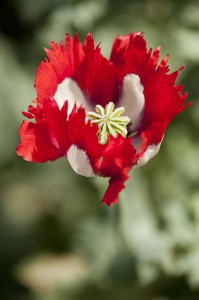 Do you know what plant is in your aspirin? In your mouthwash? How about your lotion? Plants are all around us, even in the concrete jungle. They're in your medicine cabinet, vitamins and supplements, makeup bag, and at your local hospital. And beginning May 18—with a special introductory lecture featuring world-renowned expert Andrew Weil, M.D.—Wild Medicine: Healing Plants Around the World, Featuring The Italian Renaissance Garden will introduce a world of medicinal plants on display throughout the 11 galleries of the one-acre Enid A. Haupt Conservatory.
On Saturday, May 18, hear Andrew Weil, M.D., a world-renowned leader in the field of integrative medicine, share fascinating experiences and offer unique perspectives on the power of plants to maximize well-being and quality of life. The recipient of the Garden's first H.H. Rusby Award, Dr. Weil, a Harvard-trained physician, botanist, and Founder and Director of the Arizona Center for Integrative Medicine, is being recognized for his distinguished contributions to the fields of ethnobotany and integrative medicine, and for advancing our understanding of the importance of plants in clinical care. After his remarks, meet Dr. Weil, who will sign copies of his recent books, True Food: Seasonal, Sustainable, Simple, Pure and Spontaneous Happiness: A New Path to Emotional Well-Being.
This slideshow requires JavaScript.
The Italian Renaissance Garden will be on display in the Conservatory show houses, where we present the Orchid Show and Holiday Train Show. It is a recreation of the incredible gardens at the University of Padua in Italy, which were established in 1545 and are known as Europe's first botanical garden. The gardens at Padua were established as a teaching collection for medical students, a sort of living, plant-based pharmacy. They also happen to be incredibly beautiful—overflowing with Mediterranean plants in formal plantings and beautiful water fountains.
Throughout the other nine galleries, Wild Medicine features the research of some of the Garden's leading experts in science, medicine, and ethnobotany. Wild Medicine will showcase more than 400 species or cultivars of medicinal plants, most grown in the Garden's glasshouses, making this one of the largest exhibitions of medicinal plants ever mounted. Drawing on the expertise of the Botanical Garden's Institute of Economic Botany, Wild Medicine delves into the far-reaching influence medicinal plants have had on history, the world's cultures, and modern life.
Featuring edible, medicinal, and decorative plants, fruits, flowers, and vegetables, the monumental sculptures by Philip Haas featured in Four Seasons accent Wild Medicine with a touch of artful, vivid history. Inspired by the works of Giuseppe Arcimboldo, the 16th-century Italian Renaissance painter, these four 15-foot-tall sculptures—Spring, Summer, Fall, and Winter—are a physical interpretation of the two themes of this exciting exhibition.
Explore rare books and manuscripts known as herbals in The Renaissance Herbal in the LuEsther T. Mertz Library's Rondina and LoFaro Gallery. Known as herbals, these works demonstrate the evolving role that plants have played in medicine and history since antiquity. These beautifully illustrated works have been selected from the incomparable collections of the Mertz Library, the largest botanical and horticultural library in the world.
Wild Medicine provides plenty of opportunity for hands-on learning as well, much of it tasty and healthy.
– Sip a botanically inspired cocktail and enjoy an evening viewing of Wild Medicine. Then enjoy a concert featuring festive music on select Thursdays.
– See, smell, and taste the rejuvenating and healing powers of tea, cacao, and tropical juices through daily interactive demonstrations and samplings in the Conservatory.
– Stroll the Jane Watson Irwin Perennial Garden and explore poems extolling the virtues of healing plants. And hear dramatic poetry readings on select Saturdays.
– Enjoy a rich repertoire of the music and dance of the Italian Renaissance period on most Saturdays and Sundays.
– See an exhibition of photographs featuring healing plants awarded special prizes in the prestigious International Garden Photographer of the Year contest.
– Select weekend home gardening demonstrations will offer gardening instruction on how to cultivate and enjoy healing plants at home.
– Discover the science behind the exhibition at the Garden's Annual Science Open House featuring behind-the-scenes tours, lectures, concerts, and workshops.
– Take a class in the art, science, and history of medicinal plants.
Wild Medicine: Healing Plants Around the World, Featuring The Italian Renaissance Garden runs through September 18. Ticket prices for the exhibition vary by date, and are always free to Members. Certain special events will require a separate ticket.