A Conversation with Green Kitchen Guru Alice Waters
Posted in Shop/Book Reviews on November 25 2013, by Joyce Newman
Joyce H. Newman holds a Certificate in Horticulture from The New York Botanical Garden and has been a Tour Guide for over seven years. She is a blogger for Garden Variety News and the former editor of Consumer Reports GreenerChoices.org.
---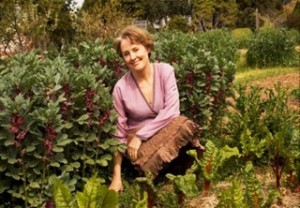 Visitors to Stone Barns Center's farm and food gardens in northern Westchester were treated to an engaging interview with Alice Waters this past weekend, as well as the 200 new recipes in her latest vegetable-focused book, The Art of Simple Food II: Recipes, Flavor, and Inspiration from the New Kitchen Garden, out this month from Clarkson Potter ($35.00) and available in the NYBG's Shop in the Garden.
Ms. Waters, a kind of legend in her own time, has authored something like 14 books, launched the Edible Schoolyard Project all over the world, and is a chef and owner of the famous Chez Panisse restaurant and cafe, which she founded with others in 1971. She pioneered the cooking philosophy that today we call "farm-to-table." Her restaurant, located in Berkeley, California, uses only fresh, flavorful seasonal ingredients that are shopped for and produced locally and sustainably.

New Yorker writer Calvin Trillin famously called Alice Waters "the Emma Goldman of the New American Cuisine," suggesting she was a radical or revolutionary. But listening to Waters talk in person you get a sense of a very practical, down-to-earth person who just wants everyone to come "back to their senses," to savor the most delicious seasonal foods, and to treat small-scale farmers as partners in the kitchen, who collaborate on the menu and cooking. At the Stone Barns Center where Waters spoke, the farm and gardens directly surround and supply the Blue Hill restaurant on the premises. So Waters was clearly relaxed and in her element.
(The interview has been edited and condensed.)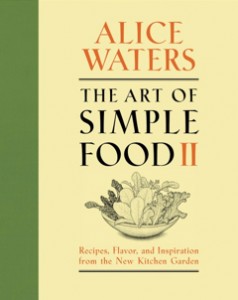 Q. Chez Panisse is in its 42nd year. What was it like in the beginning?
Well, in the beginning I worried a lot about what people might not like to eat. I used to look at the dishwasher to see what people threw out and then I'd ask them what was the matter with it. I was insecure. I don't like to preach to people. I want to win people over, seduce them with the most delicious food and the experience of dining together. I want to demystify food by having the kitchen open to the dining room so people can see what is going on, even if it gets a little crowded in there.

Q. You depend on deep relationships with your staff who are your team. How do you keep that going?
We do have a family environment. I like to meet and get to know new people. We now have internships for people who stay for several months. That way we can cultivate new staff.
Q. How do you personally stay inspired?
I am inspired by the kids in the Edible Schoolyard Project. The original Edible Schoolyard includes 6th, 7th, and 8th Graders at the Martin Luther King Jr. Middle School in Berkeley, but now we have a network of programs all over the planet. I also am inspired by the young staff we have—they are mainly between 25 and 35 or so.
Q. What are your thoughts about farmers?
I think of the farmers as co-producers. We need to treasure the farmer. You know, I was struggling one time when I was trying to write a speech. And my daughter said to me: "Why are you having so much trouble? You say the same thing every time!" And she was right. I always say "take care of the land"—that's the bottom line.
---
In the meantime, don't forget that our own locally sourced foods—courtesy of Migliorelli Farm, Red Jacket Orchards, Gajeski Produce, and Meredith's Bread—will be making their last Greenmarket appearance for 2013 on Wednesday, November 27, right here at the NYBG. It's the perfect opportunity to fill in the gaps on your Thanksgiving menu or stock up ahead of winter.