Posted in History, People, Shop/Book Reviews on October 3 2017, by Joyce Newman
Joyce H. Newman is an environmental journalist and teacher. She holds a Certificate in Horticulture from The New York Botanical Garden.
---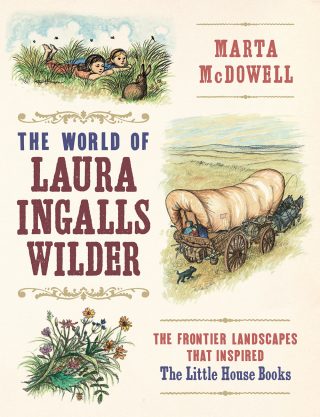 Most of us know Laura Ingalls Wilder as the author of The Little House series. But now a wonderful new book by NYBG instructor and garden historian Marta McDowell reveals little-known facts about Wilder's other life—as a settler, farmer, and gardener.
In The World of Laura Ingalls Wilder: The Frontier Landscapes That Inspired The Little House Books (Timber Press, $27.95), McDowell creates an intimate, colorful, and witty portrait of the writer who cherished her gardens and whose gardening life was shaped by the prairie lands that have largely disappeared today. (McDowell is also the author of Beatrix Potter's Gardening Life, Emily Dickinson's Gardens, and All the Presidents' Gardens.)
This year marks the 150th anniversary of Wilder's birth. Her life began in 1867 in a Wisconsin log cabin, a frontier baby whose pioneer parents had cleared a forest to make a farm—"the quintessential American beginning," says McDowell. McDowell traces Wilder's upbringing and adulthood in the first part of the book—several chapters follow her from Wisconsin, to Kansas, Minnesota, Iowa, South Dakota, Missouri, and other places where Wilder's daughter, Rose Wilder Lane (her prairie rose), ultimately lived.