Picture Perfect at Bar Car Nights
Posted in Holiday Train Show on December 12 2013, by Ann Rafalko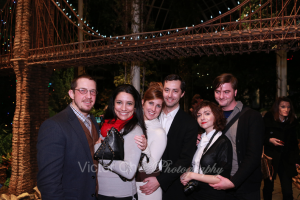 They say a picture is worth a thousand words, so take a look at all these smiling faces!
Bar Car Nights is your chance to see the Holiday Train Show in an adults-only setting, cocktail (or mocktail) in hand. Thousands of twinkling lights set the scene for a festive evening with friends or family (or even soon-to-be family, we've heard tell of an engagement or two!).
This Saturday's signature cocktail combines a few of the iconic flavors of the season; ginger, apple, and something that is really more of a sensation than a flavor, bubbles! Called the Winter Intensive, this festive libation combines Barrow's Intense Ginger Liqueur with hard apple cider, and a sparkling topper. It's the perfect way to warm you from the inside out!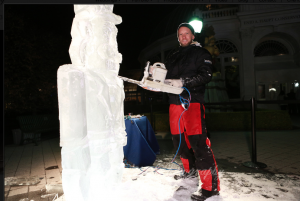 Additional cocktails and delicious food will be available from our limited-run Holiday Dining Pavilion: "Streets of New York," a homage to all the great street eats of our great town. If you're hankering for something a bit more formal, our dining partners offer great extras to all Bar Car Nights ticket holders.
Step into the Conservatory Courtyard to gaze at the stars, and to marvel at the ice sculptures created by Okamoto Studios. And don't forget to pose for our professional photographer, Victor Chu, whose beautiful snapshots will last a lot longer than another blurred selfie! Photographs are available about a week after the event. Be sure to follow us on Facebook so we can let you know when they're ready to be downloaded.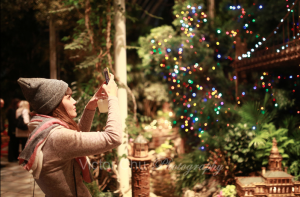 Bar Car Nights are a rare opportunity to truly embrace your inner child and delight in the holiday season! It's the perfect date night, festive outing, or chance to rally all your friends for one great evening!
Take the train to Botanical Garden Station, or hitch a discounted ride with Uber, but whatever you do don't dillydally on buying your tickets! Bar Car Nights always sell out, so snap 'em up before they're gone!