Toot Toot! It's Thomas Time!
Posted in Holiday Train Show on December 31 2013, by Ann Rafalko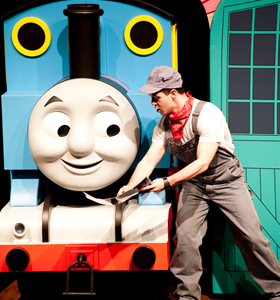 What's better than the Holiday Train Show? How about when we combine the Holiday Train Show with All Aboard with Thomas & Friends! That's right, starting on New Year's Day your train-crazy little ones can get a double dose of all things train in one single day (and if you take Metro-North Rail Road to Botanical Garden Station, that's a triple dose of all things train!).
Running through January 26, your kids can join Thomas and Driver Sam on a new fun-filled, sing-along, mini performance adventure by helping them decorate the station in time for the big Sodor surprise party before the guest of honor arrives! At the end, be sure to have your camera ready for an exciting photo op with the stars of the show!
This fun-filled mini performance is held in Ross Hall in the LuEsther T. Mertz Library Building, a short walk from the Enid A. Haupt Conservatory where the Holiday Train Show is housed under the Victorian glasshouse's glittering domes through January 12. After January 17, the focus continues to be on the Conservatory, but this time on our permanent collection during Tropical Paradise, a balmy trip to the tropics without leaving New York!
Strollers and baby carriers are welcome on our grounds, but can't be taken inside the Conservatory. But never fear! There's plenty of stroller parking, so if your wee ones aren't walking (or toddling) yet, pack a carrier or cuddle with them while you explore the Train Show or Tropical Paradise.
Advance purchase tickets are a must as All Aboard with Thomas & Friends always sells out—especially on the weekends. You must select a Holiday Train Show with Thomas mini performance or Tropical Paradise with Thomas mini performance ticket! While the price of all Holiday Train Show and Tropical Paradise tickets are the same, no other ticket type will grant access to the All Aboard with Thomas & Friends mini performances. All Aboard with Thomas & Friends tickets for January 17-26 fall within the Tropical Paradise exhibition.
After the performance, why not take a winter walk with your kiddos around our 250-acres and let them blow off some steam? Romping, running, puddle leaping, and inquisitive exploration are all encouraged, especially within the kid-focused Everett Children's Adventure Garden, where everything is aimed at letting your little ones have a fun, engaging, safe time!