In Winter, All Four Seasons
Posted in Exhibitions on January 16 2014, by Thomas Andres
Thomas Andres is an Honorary Research Associate with The New York Botanical Garden.
---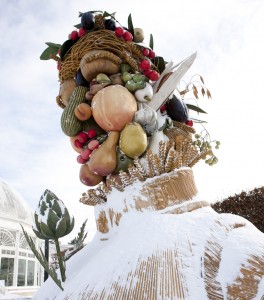 The Holiday Train Show at the Enid A. Haupt Conservatory may have attracted record numbers of visitors this season, but just outside in the Conservatory Courtyard you'll find four spectacular, 15-foot-high sculptures that are—in my honest opinion—not to be missed! And yet, some visitors may forget that the indoor attractions like the upcoming Tropical Paradise exhibition aren't the only ones the Conservatory has to offer. Open the exterior doors on the side of the Palm Dome pool opposite the entrance and you'll see the Four Seasons in all their winter (and spring, and summer, and fall) majesty. They'll be there through March 30! For my part, I plan on visiting them regularly, because they not only represent the seasons of the year, but seem to constantly change moods depending on the weather and time of day.
The sculptures were inspired by the genius of Italian Renaissance painter Giuseppe Arcimboldo, who came to prominence around 500 years ago. No matter your age, you too will be inspired by these pieces, especially when considering the work that contemporary artist Philip Haas undertook to transform them from paintings into monumental 3D portraits. They seem so alive that you might not realize they're actually composite fiberglass representations of various plant materials, not dissimilar to the models of New York buildings in the Train Show, which use real plant parts to form famous architecture.


This slideshow requires JavaScript.
---
Slideshow photos by Thomas Andres.